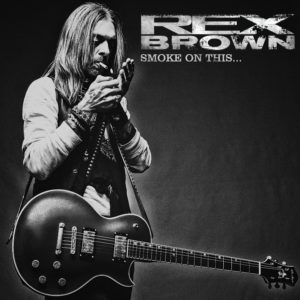 When Rex Brown recently told that he was the rock'n'roll guy of Pantera, he wasn't kidding. If you expected from him a Pantera's album I'm so sorry to give you the bad news: "Smoke On This" is not a bit near Pantera but not even a small bit. At least Rex Brown can stop moaning that he's been doing the same thing for twenty years. "Smoke On This" is as atmospherical and moody as any psychedelic rock album from the 1970s. Yes, it is a retro album, and there's no problem with that.
"Smoke On This" is Rex's first attempt as lead singer, and he does it smoothly. The guy can sing. And well. The opening track does justice to the title "Lone Rider" as we get the impression that we are alone somewhere in this vast, sad, and lonely world. There are songs such as "Get Yourself Alright" that brings out all the psychedelic atmosphere of a Beatles album from "Lucy In The Sky With Diamonds" era. Others are pretty and smooth as "Fault Line," also around The Beatles area. The same for the following song, "What Comes Around." And this one right from the "White Album." I guess that Rex is more a Beatles guy than a Stones. Just an impression… 
In my humble opinion, "Smoke On This" besides the 1960s and 1970s touches, features a lot of some 1990s sound. I'd say near Oasis or Smashing Pumpkins because of the smooth and sometimes introspective atmospheres. And by all the interviews Rex Brown gave, that was really the intent. He wanted an effort very different from what he was used to do, and certainly he's got it. What I miss is a little more enthusiasm, a little more power to the songs. Although, it's not a songwriting problem, but a post production one, "Smoke On This" could be a little more enthusiastic. Some instruments, i.e. the guitars, could be a little louder. That would make a big difference.
Track Listing:
Lone Rider
Crossing Lines
Buried Alive
Train Song
Get Yourself Alright
Fault Line
What Comes Around
Grace
So Into You
Best Of Me
One Of These Days
Rex Brown "Smoke On This" will hit the streets tomorrow, July 28th via Steamhammer / SPV.
Watch the official video to "Buried Alive" here: