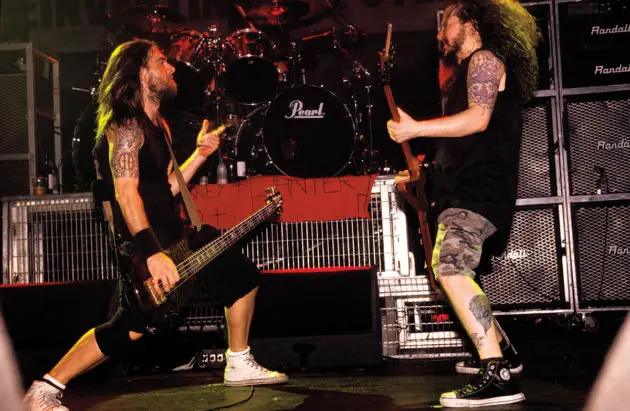 Rex Brown remembered the Pantera days and some of musical disagreements he had with Dimebag Darrell, telling Guitar World (transcribed by UG):
"He always wanted me to play identical to what he was doing, which I was strongly against.

"I thought playing with the drummer was very important. But I did some stuff behind the leads – some of it I wrote with guitar, but with a bass in my head on where it was gonna go.

"I did a lot of arranging in that band."
The bassist also noted:
"A lot of people don't know I played guitar behind some on the solo, especially on [1990's 'Cowboys From Hell'] – 'Cemetery Gates' and also this 'Cowboys From Hell' part behind the lead.
"Sometimes [Dime] would play bass on something and I'd play guitar on something, it was kind of weird."
Remembering the very early days, Rex added:
"I knew Dime before he even knew how to play a bar chord. His dad kind of taught him – his dad was left-handed.

"Dime went from just being a kid that played bar chords to this prodigy overnight. And it was the most unreal thing I've ever seen in my life – for some kid, all of a sudden, just to do that

"Not seeing him for a summer – two or three months – and then see him come out this completely different thing, dude. It was amazing. It was really, really cool, man. And I miss him dearly."