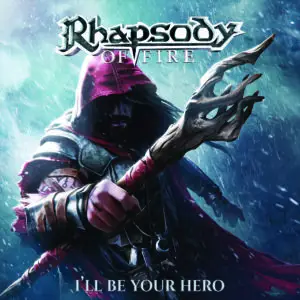 First I was willingly avoiding to review Rhapsody of Fire "I'll Be Your Hero." Calm down, my dear child of the night, I don't mean any disrespect to the band. I did it because I had just reviewed a Power Metal band and I was trying to review something else. I tried three bands and none of them were of my taste , so I had to head back to my dear Rhapsody of Fire. The heavens and the gods of Metal know what they do.
Second I was shocked with tittle track "I'll Be Your Hero." I don't if my audio has some defect or just misled the sound giving the keyboards too much prominence. A prominence that really annoyed me.
Third, remember that I said in my last review of "The Eigth Mountain" that Rhapsody of Fire were a band that loved the motto 'don't mess with success'? Well, I was flat wrong. "I'll Be Your Hero" really surprised and shocked me as it is a song that I couldn't see it coming due to the mixing of the aforementioned keyboarding. I guess it didn't surprise only me, my bet is that each Rhapsody of Fire fan in this sad and lonely and pathetic little planet will get really surprised. Now just to be true, I didn't like the track. Too happy and jumpy for me, if you know what I mean. But whatever…
The PR release says that "I'll Be Your Hero" is an appetizer for a new full length. Ok, who am I to disagree? If he says so. The EP includes Japan's bonus track "Where Dragons Fly," 2 live songs "Rain of Fury" and "The Courage to Forgive" recorded on the original "The Eighth Mountain" Tour in 2019 and all the 4 versions – was that much really necessary? – of the ballad "The Wind, the Rain and the Moon," which includes the previously released English version and the previously unreleased versions in Italian, Spanish and French language. By the way, all those tracks are loyal to Rhapsody of Fire legacy and motto. Ah, out of "La Force De Me Battre" which musicwise is purely the band except that it's in French.
Rhapsody of Fire "I'll Be Your Hero" was released on June 04th via AFM Records.
Track Listing:
I'll Be Your Hero
Where Dragons Fly
Rain of Fury (Live)
The Courage to Forgive (Live)
The Wind, the Rain and the Moon
Senza Un Addio
Sin Un Adios
La Force De Me Battre
Watch "I'll Be Your Hero" official lyric video here: