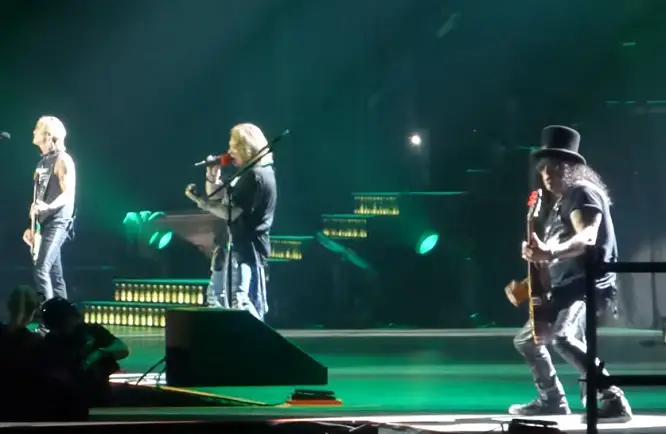 GUNS N' ROSES guitarist Richard Fortus spoke to St. Louis Post-Dispatch about the possibility of a new studio LP from the band in the not-too-distant future.
"Slash is on tour [with his solo group] right now," Fortus said. "Once he gets back from that, we're gonna get some more recording done and hopefully get an album out soon. And then we'll get back to touring."
Three-fifths of the classic GUNS lineup reunited in 2016 after last performing together more than two decades earlier. The "Not In This Lifetime" tour, which is now one of the highest-grossing in music history, launched in April of that year with a nightclub gig in Los Angeles and has lasted for more than two and a half years.
Last summer, Slash told Classic Rock magazine that GUNS singer Axl Rose had "a ton of shit" already recorded for a possible new album. "I think everybody thinks it's a good idea, and everybody would like to do it," he said. "There's no shortage of ideas from everybody involved, but we've been so busy on the road there hasn't really been time to go in and sit down and go, 'Okay, we're going to make a record.'"
Joining Fortus, Rose and Slash on the "Not In This Lifetime" trek are bassist Duff McKagan, drummer Frank Ferrer, keyboardist Dizzy Reed and second keyboardist Melissa Reese.
GUNS N' ROSES' latest studio album, "Chinese Democracy", came out in 2008 and featured only Axl from the classic lineup.
The last album on which Rose, McKagan and Slash appeared together was 1993's covers set "The Spaghetti Incident?"
Slash released his fourth solo album and third with his band THE CONSPIRATORS, "Living The Dream", last September.