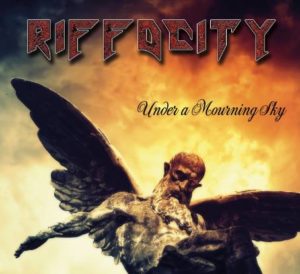 Have you ever heard an epic thrash metal band? I haven't until I got this Riffocity "Under a Mourning Star." In the beginning of it all Riffocity call the eye to the bum with words in the name Riffocity and album name "Under a Mourning Star." Humor is something desired in the Metal world. We don't have to take it all so seriously. Riffocity have the same strength Metallica had in the golden years, which, unfortunately, are long gone. Songs are strong and with a neat instrumental. Riffocity give what they promised: a powerhouse of riffs.
I guess the most impressive song in is "Fortunes of Death" with its slow beginning that goes in crescendo to burst into a frenetic tune. Also a highlight to the anthemic chorus. By the way, Riffocity are also a powerhouse of power choruses. A bit redundant, don't you agree? I do, but there are no other words to explain them. Their choruses are at the same time strengthful and epic. And above all with that typical dash of thrash irony. "From Inside the Arrows Come" works vey well with this dicotomy. It is strengthful with big chorus and some calm instrumental moments. And a killer main riff.
It's so grateful to hear a band that dares to beyond the limits of its genre. There are lots of moments in "Under a Mourning Star" where Riffocity try something else. "Isolation" examplifies that better in a mix of punk/thrash fury and melodies taken from power metal. The outcome is outstanding. Pay attention the slow and tranquil end of it. Beautiful as hell. Riffocity show us that it is possible to have those elements together.
Riffocity "Under a Mourning Star was self-released.
Track Listing:
Hail Thy Father
Arnis Oblivion
Bitter Sunday
Fortunes of Death
This Eternal Secret Lies Above
From Inside The Arrows Come
Isolation
Perish Unloved
Under a Mourning Sky
Above the End
Watch "Hail Thy Father" official video here: