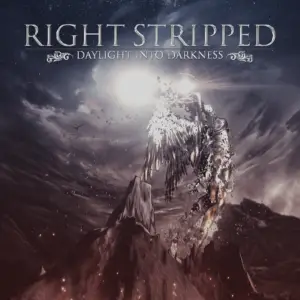 Who said there is no point in complaining? My fan will remember that it's been some time that I say that Power Metal is predictable, won't you? Yeah right! However, I've been reviewing some pretty different Power Metal bands and I can't say that they are predictable. That's great for me and for the bands. I say that because I have here another pretty different one. A band that would be like Jeff Scott Soto goes singing in a Power/Modern Metal band. Got that right? Power/Modern Metal band. That's what Right Stripped are. No, no. I'm not kidding. You got it right. Yeah, I know a pretty uncanny mix, but that's what it is. Well, after the second listening I'm still looking for more Power Metal features in "Daylight into Darkness" and I'm sure there are.
The kick off track is the strong and catchy "We Will Rise" that is the kind of track that the fan may get himself humming without even knowing. It's the track that explains Right Stripped better as it is the presentation of the uncanny mix of Power Metal and modern Metal. The intro is pretty Power Metal and the fan may get involved with it until the voice comes then the song changes a lot and gets the modern metal mood instead. However the power of the song and chorus will involve the fan again with more urge. I guess the strongest feature of "Daylight into Darkness" is the collection of powerful choruses that the band was able to come up with. I consider that an art, if you know what I mean. "Hellraiser" follows the same path as "We Will Rise" regarding the unsual mix, however here Power Metal is stronger though some electronic effects in the intro. The fan will get astonished with the guitar work in it. Inspired phrasing and catchy performance. In some parts the fan may have the feeling that the instrumentals are from an Yngwie Malmsteen track. Just the feeling maybe because of the resemblances with Jeff Scott Soto which are stronger here in this track together with the bass lines. The same happens with "Requiem" that follows the same formula with a strong chorus and guitar. The acoustic ballad delivers a powerful and tender acoustic guitar filled and embelished by the warm voice of Joe Kiesgen who does a great work here.
In a nutshell, "Daylight into Darkness" will deliver the fan lots of emotion and thrills. The combination Right Stripped did here deserves a more careful attention. It may not be the perfect album but the band build up a huge and strong personality what, for me, counts a lot.
Right Stripped "Daylight into Darkness" was released on March 06th via Carney Media Group.
Track Listing:
We Will Rise
Now That You're Sober
Daylight into Darkness
Inner Lies
Hellraiser
Requiem
Carry Me Home
Three Years
Against the Tide
Watch "Now That You're Sober" official lyric video here: