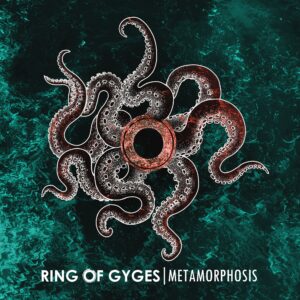 This is the first band that mixes Prog Metal with modern Metal. I have to warn my dear child of the night that this mix is really uncanny as "Go" showcases the fan. At first I thought my player was with some kind of problem, then I got used with the sonancy or the track got a little more standard or both. The fact is that "Go" is a cauldron of influences mixing Prog Metal with some experimental traits as some effects, a clean guitar with full chords and a Rush like bass line. Fun fact is that "Go" connects immeadiately with "The Choice" and I haven't noticed the passing. That's why I used the term 'connect' it means perfectly what happens with both tracks. On second thought, "The Choice" may be a continuation of the ideas of the previous track with more modern Metal features. To avoid any misunderstanding, when I say modern Metal I much more mean pop features and traits. Here the pop traits aren't related to the pop some Prog Rock bands as Yes and Marillion introduced in the 1980s with more melody and less complex instrumentals. Pop here are the traits modern Metal bands use today. "Parasite," for instance, is a great example of what I'm saying here. Some  electronic effects, no guitar solo, the guitars mixed pretty behind anything else, and others. On the opposite, "Fading" has most of its traits related to that Pop Prog Rock I forementioned with some 1990s ballads.
It's really fair to say that "Metamorphosis" can be related to a cauldron of influences that comes from different musical epochs to this day. My guess is that the glue that conencts everything in the album is the pop grip Ring of Gyges put to their music. "The Face of God," for instance, is the track that represents better the mix modern Metal with Prog Rock traits including a nice piano passage in the end. Interestingly, I wasn't able to find a band that could be addressed to what I heard and that's a great thing. It means that Ring of Gyges's formula isn't of my knowledge. Of course, that doesn't mean much but it's really a thing.
Ring of Gyges "Metamorphosis" will be released on April 07th via ViciSolum Productions.
Track Listing:
Dragonflies
Cabin Fever
Nautilus
Go
The Choice
Holy Water
Parasite
Fading
The Face of God
Sea Legs
Find Me Here
Watch "Parasite" official music video here:
1708