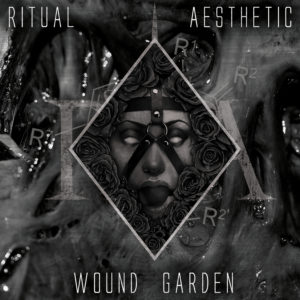 Here's my confession that industrial metal bands can be compelling even to the most radical fan. The constrast between eletronic effects and big guitars is really a great thing. Of course, today it's no more that original, but it still does have a certain charm. Ritual Aesthetic with "Wound Garden" do have a charm mostly due to the strong big guitar sound. Opening track "Live Amenesia" is certainly a good example.
In fact – I won't ever forgive me for saying this – electronic effects can help recreating a very dark and dense atmosphere. Moreover, they help setting a living chaos into a song as in "The Analog Flesh." But hell really breaks loose in "Divided" and its frentic pace and strong uncanny guitar tones. To tell you the truth, those uncanny guitar tones really caught me up. Not to mention the sweet and relaxing keyboard part just to introduce another hell on earth sequence. Breaknecking track even to the most radical Metal fan like me. It is so catchy in a so painful way. But I do miss guitar solos. Have I ever written that? I guess so, but it doesn't matter. I just need to make my point again.
Effects are part of Metal world from the beginning. A heritage from Beatles' "Sargent Peppers" and all its weird and uncanny sonance. Of course, Ritual Aesthetic's fountain is not that old. Of course, Marilyn Mason touched them much more, but one can still feel Beatles' references in it mostly in terms of pace. Check "Chemical Weapons" out and its "I'm the Walrus" weird feeling. Vocals in background may make you remind it better. But who am I deceiving? Does anyone still care about The Beatles?
Well, if it is modern sonic chaos you're looking for, here's Ritual Aesthetic with "Wound Garden." I'm sure they will satisfy your needs.
Ritual Aesthetic "Wound Garden" will be released on July 27th via Cleopatra Records.
Track Listing:
Stasis (AC MM2)
Life Amnesia (AC MM3)
The Analog Flesh (AC MM4)
Divided (AC MM2.1)
Dread (AC MM2.1)
Malefaktor (AC MM2)
Mechanism of Desire ( E.S.A Electronic Substance Abuse Remix)
Chemical Weapons (Seraphim System Remix) 1 1
Amnesiac (Xentrifuge Remix)
Watch "The Analog Flesh" official musical video here: