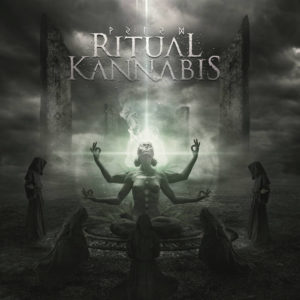 Slowly we are sewing a delicate net of mutual help and support among bands with our bare hands. Slowly with our small page with open and free space to small and independent bands is building a reputation among bands. Our reviews and articles are getting into the farthest places in this sad and lonely planet. It works like this; we receive a review request and the band send their material, we write the request and let the band know, the band tells other bands, and here we are. Sometimes we do an interview.
Okay, that put, let's address to Ritual Kannabis, the band of this time and review. It's not my use to disagree with a band opinion, but Ritual Kannabis label themselves as hardcore. I respectfully disagree with them. Well, if they are it's not in this "The Truth" which is a fabulous piece of Extreme Metal driven to a ferocious and angry Death Metal. I've reviewed some hardcore bands here and no one sounds as Ritual Kannabis do. Listen to the guitar shreading in "Revenge Is the Only Way." No punk band does that. Never did, never will. Not because they can't, because it's their philosophy to have the simplest playing. Of course, there are hardcore influences in Ritual Kannabis music, as there are in any Extreme Metal band. Even Wesley's vocals, which are hardcore driven, are more related to Death Metal than to hardcore. And how about the machine gun drums in "4:20"? Pretty Metal to me. How the guitar dissonances? No punk band does that, Black Metal bands instead do it a lot.
I could go on forever only to prove me right, but that's not the point. Ritual Kannabis are a very good band. Their instrumentals are neat, vocals are aggressive and harsh the way Metal fans like, their songs sound nice and Metal-oriented. If they consider themselves a hardcore band, good for them. Ritual Kannabis are great and that what really matters. By the way, if I may, listen first to "Putrefactor" and its neat guitar licks. A real blast into your ears.
Track Listing:
Weed Encrypted
Revenge Is the Only Way
Greed Infested
4:20
Putrefactor
Enlightened by Evil
Society's Mask Erased
The Truth
Embrace Darkness
Watch "The Truth" official music video here: