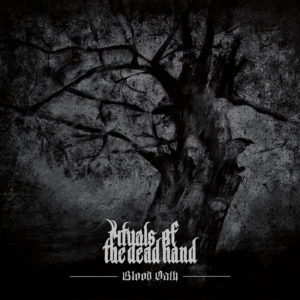 After a long series of old school metal, here's a band that is everything but old school, or not. I guess it is the first time I see a band with a longer name than the album's. Well, it's a trend today. No problem with that. Come on, now I'm trying to point my fingers into band's names. My, my, my. I guess I'm impersonating too much the figure of a reviewer.
A few years ago, when the world had the pleasure to have extreme metal been born, some metalheads used to confuse speed with power and heaviness. Extreme metal bands had to be faster than light. It was a natural thing when opposed to old school metal bands that weren't that fast. It worked fine to many bands, but the problem was that extreme-velocity made bands sound the same. Then, in the 1990s some bands decided to step back. You know what? It was one of the best things that happened in Metal.
Every time I listen to a band like Rituals Of The Dead Hand I remember that. Their music is vigorous, full of power without being extremely fast. There are only five tracks in "Blood Oath" and only "They Rode by Night" is a bit faster than the others. Rituals Of The Dead Hand's secret is to add lots of fury in their vocals and choose carefully instrumental lines. At the same time, tracks are long, very long in a nine-minute length average. I can't figure it out why, but longer tunes are the apple of the eyes of bands which wish to doom their songs. Okay, it's an opportunity of mixing moods, paces, and whatever. I get that. Well, it works fine to Rituals Of The Dead Hand, that's what really matters.
Rituals Of The Dead Hand did a great in "Blood Oath" with moods. Their message was understood. Everyone can feel the pain, anger, anguish, and rebellion within each song. That's really the deal.
Rituals Of The Dead Hand "Blood Oath" will be released on November 01st via Dunkelheit Produktionen.
Track Listing:
Bonderkuil
Sworn
The Gathering
They Rode By Night
The Scourge
Watch "Sworn" official video here: