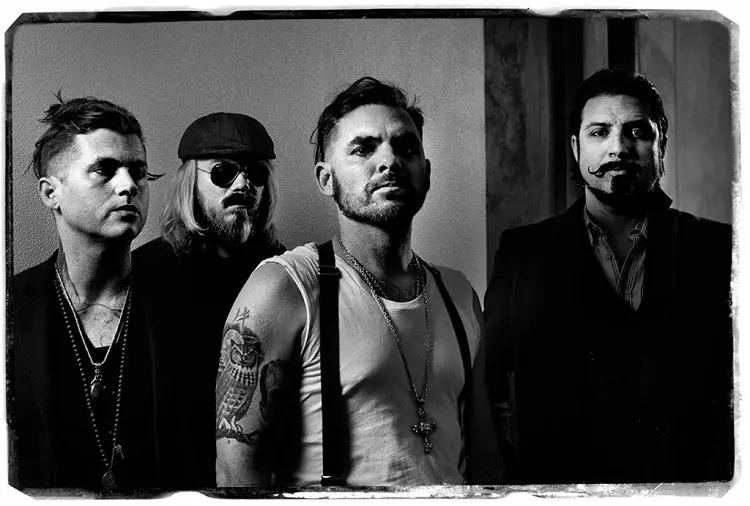 Following the release of their album 'Great Western Valkyrie' in 2014, a year which saw the RIVAL SONS appear on Later With Jools Holland in the UK, Letterman in the US, appear at the Glastonbury and Isle of Wight festivals, plus consistently sell out their worldwide headline tours, RIVAL SONS have announced that their fifth album will be available later this year entitled 'Hollow Bones'.
Vocalist Jay Buchanan said, "Each record we've made has been part of a distillation toward revealing the band's essence.  This record, finally is the release of the unapologetic, wild beast that has long lived within the ribs of Rival Sons howling to be freed."  Recorded in Nashville's LCS studios, 'Hollow Bones' saw recent two-times Grammy winner Dave Cobb on producer duties yet again, who commented, "Rival Sons are the best rock 'n' roll band on the planet!"
Always a band who feel artwork is as much a part of the album experience as the music, their first outing was a collaboration with legendary artist Storm Thorgerson, known for many iconic album covers from the likes of PINK FLOYD and LED ZEPPELIN.  This time they have teamed up with artist Martin Wittfooth, whose intensely allegorical paintings all suggest the future of the human condition – without showing a single person – on a piece called "Rainsong".
Guitarist Scott Holiday commented, "I discovered Martin Wittfooth about halfway through making 'Hollow Bones'.  I was immediately drawn into his work.  I loved his imagery with animals and felt it was calm and unnerving all at the same time.  I also loved the touch of whimsy and beautiful psychedelic overtones he used.  First time I saw his work I immediately felt it was right for this album.  I won't try to overly interpret the album cover or explain in detail why I believe it works perfectly with the album… but I can safely say I think this just might be my favorite cover of ours yet."
View the 'Hollow Bones' album cover below.
With their last two albums charting in the Top 20 around the world ('Great Western Valkyrie' charted at 14 in the UK), a rabid fan base and incendiary live shows, 2016 is set to be their best year yet.  RIVAL SONS are currently the sole support on the current BLACK SABBATH The End Tour; they are also playing Download Festival's main stage on Saturday 11th June.