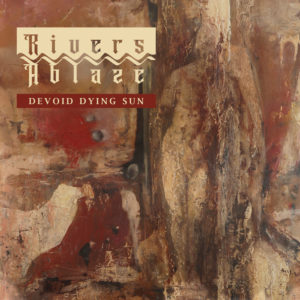 From time to time it's a common thing to receive instrumentals albums. Most of them, though, are either connect to the Progs or to the Technicals. Hard to have one that slips from these labeling. Instrumental Extreme Metal albums are scarce. Very scarce. Well, this Rivers Ablaze "Devoid Dying Sun" falls into both categories. It's at the same time Prog and Technical and, at times, Extreme Metal. It's fair to say that most of the tracks flirt with Extreme Metal. In fact, "Devoid Dying Sun" has many other influences which makes it a real melting cauldron of influences from the aforementioned Extreme Metal to Space Rock – and even some Hardcore touches – that makes this album something pretty interesting to analyse. Instrumentals albums are somewhat hard to review as they don't have vocals that in general helps a lot to say a few words about the band. To us, mere mortals, vocals give that thing that the song needs to be liked.
I forgot to tell that "Devoid Dying Sun" aren't a shredders album either even if it's a project from the guitarist Márton Kertész. I mean, it's not an instrumental album made just to make a very inflated ego guitarist to shine and no one else. Nah, Rivers Ablaze are a band and this is a band album. That's it. The feeling I have is that all tracks in the album were programmed to tell a story and most of them are about the outer space. That's what the two final tracks "A Cloud Once Majestic" and "When Silence Fades to Nothingness" deliver to the fan easily noticed by both poetic tittles. Poetry is also another thing that this album is full of from the very first moment. The burning question is: how to notice poetry in a Metal album? Easy peasy, just listen to the first track "Devourer of the Cosmic Flame" and tell me about it. Fell the trip to the outer space and the will to make the fan fly away.
As I said before, "Devoid Dying Sun" is a band album. Not one of those albums made on purpose to one of the musicians to shine. All of them shine in here with well built and performed tracks with that needed spice of Extreme Metal. I won't posit it's an Extreme Metal because I'm not really sure. There are lots of Extreme Metal features, however they're not that prominent to make this album suitable to an extreme Metaller. But who knows…
Rivers Ablaze "Devoid Dying Sun" will be released on August 06th via Metal.hu.
Track Listing:
Devourer of the Cosmic Flame
The Manifestation of Supreme Darkness
The Eclipsing Hour
Invocation of the Consuming Fire
A Cloud Once Majestic
When Silence Fades to Nothingness
Watch "Devoid Dying Sun" album teaser here: