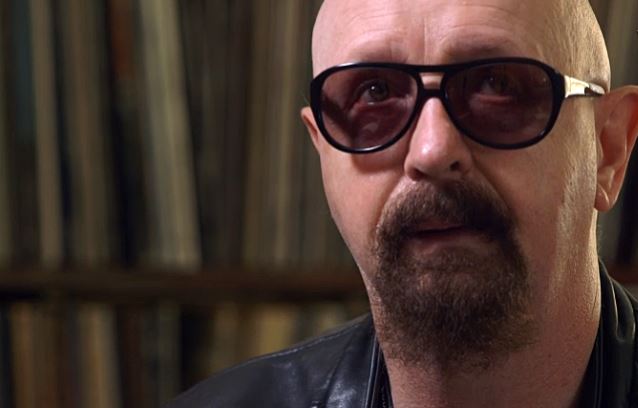 During a recent Q&A session at ALICE COOPER's Solid Rock Teen Center in Phoenix, AZ, JUDAS PRIEST singer Rob Halford said he is not ruling out the return of guitarist K.K. Downing to the band somewhere in the future.
When asked if there is any chance for Downing's return in the band, Halford replied: "It is such an emotionally charged question. It's, like, 'Why isn't Ace [Frehley] back in KISS?' I think what will happen will happen.
"I know that's kind of a nebulous response. I like to be as honest as I possibly can. I think being honest is a pretty good way to live your life, and I don't want to send mixed messages."
PRIEST will perform at next year's edition of the Wacken Open Air festival, set to take place July 30, 2020 – August 1, 2020 in Wacken, Germany.
The show will be part of their 50th-anniversary tour, which is expected to launch next spring/summer.
PRIEST bassist Ian Hill has confirmed that the band is planning to mark the band's 50th anniversary in 2020 with a special tour.
Ian said: "Technically, the 50th anniversary is this year, but we weren't called JUDAS PRIEST until 1970, so we thought we'd leave it till next year. There's a few ideas in the pipeline, but nothing solid yet, apart from the fact that we will tour.
"We've got some work to do with Ozzy [Osbourne] at the beginning of next year, January-February, which is the canceled shows from this year. Ozzy got sick and wasn't able to do those shows. After that, we'll start with the 50-year celebrations and we'll be around again playing… Well, we're not sure what we'll be playing, but it'll be cool."
JUDAS PRIEST's latest album Firepower is the first studio album since 1988's Ram It Down to be produced by Tom Allom, and the first one with Andy Sneap as co-producer. The album sold around 49,000 copies in the United States within its first week of release, debuting at No. 5 on the Billboard 200 chart, making it the band's highest-charting album in the US. Music videos were made for "Lightning Strike", "Spectre" and "No Surrender".