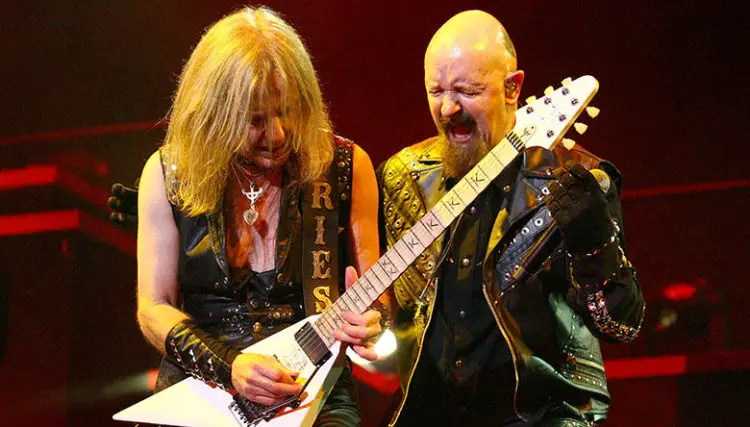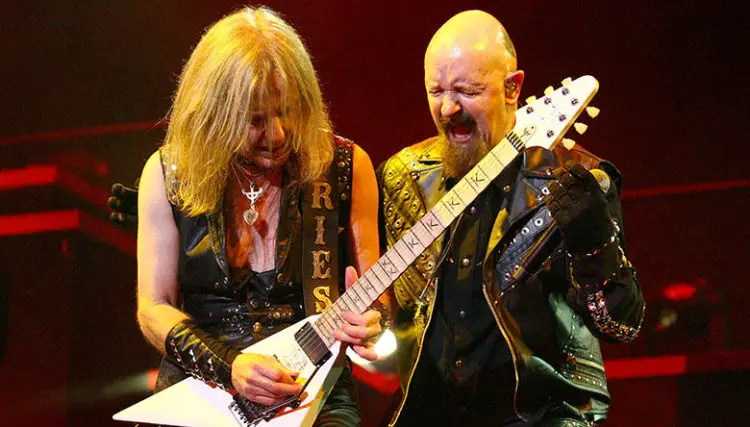 Rob Halford says that he was personally "upset" by K.K. Downing's statement in which the former JUDAS PRIEST guitarist insinuated that producer Andy Sneap was covering Glenn Tipton's parts on the band's new album.
Two weeks after Tipton announced that he was retiring from the road due to his battle with Parkinson's disease, Downing released a statement in which he said that he was "shocked and stunned" that he wasn't approached to rejoin the band and suggested that Sneap's "contribution to the new JUDAS PRIEST album was much more than just as a producer." His comments appeared to get a rise out of Halford, who fired back that "a lot" of K.K.'s statement was "completely superfluous" and dismissed as "a thousand percent false" the idea that Tipton didn't personally lay down all of his guitar work on "Firepower".
Downing later walked back his comments, saying that he only meant to say that Sneapprobably not only produced "Firepower" "but also contributed song ideas, riffs and licks, lyric ideas etc. Even George Martin, I believe, provided much more for THE BEATLES than just the role of a normal producer," he explained. "An extra musician in the studio, like the aforementioned talented producers, really does bring a great benefit."
In a brand new interview with Los Angeles Daily News, Rob said that he didn't know why Downing chose to inject negativity into a public statement about Tipton's condition.
"[K.K.] had made the decision to retire, I don't know how many years ago that it was," Halford said. "At the time, he was emphatic about retiring and never coming back, and that's what we were left with. There has been no communication since that time. There has been no inquires about how the band is doing since that time, or how the guys are doing, or anything of that nature."
Halford continued: "It's a very emotionally charged point that we are trying to not let us detract from the moment in focus here, which is the album and the tour.
"What upset me personally was the inference that Glenn didn't play on this record. I took that quite strongly.
"Like I said on a radio interview, we have never been a band to publicly bring these things to the surface," he added.
"There are so many ways you can send a message through — 'Hey guys, if you need me, let me know, I'm ready' — not do it like this, you know what I'm saying?
"You know, we will fight this head-on. We won't shy away. It's very easy to fall into the clickbait, isn't it? 'He said, she said' — it tends to dilute all the great things that you have achieved as a band in your music and everything, and it's also an insult to the fans, to some extent, because we are all in this together. It is what it is, and I hope we have laid it to rest now."