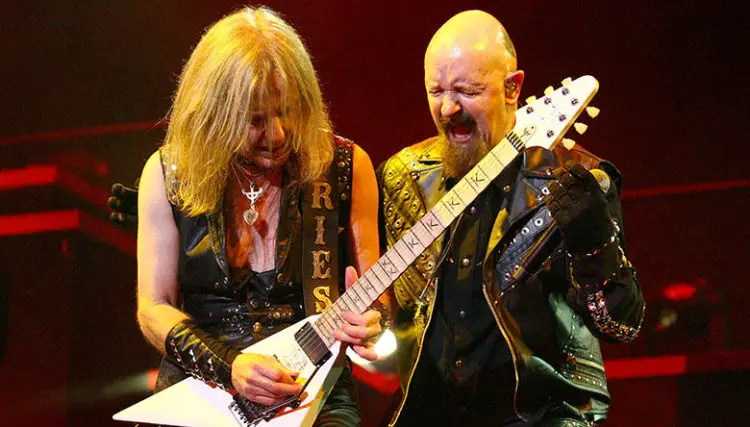 JUDAS PRIEST will be inducted into the Rock And Roll Hall Of Fame this year. PRIEST will receive the Musical Excellence Award at the event, which will honor Eminem, Dolly Parton, DURAN DURAN, Lionel Richie, Pat Benatar, EURYTHMICS and Carly Simon in the Performers category.
The induction ceremony will be held on November 5, 2022 at the Microsoft Theater in Los Angeles. It will air at a later date on HBO and stream on HBO Max. There will also be a radio simulcast on SiriusXM's Rock & Roll Hall Of Fame Radio channel 310.
JUDAS PRIEST members that will get inducted include current members Rob Halford (vocals),Ian Hill (bass),Glenn Tipton (guitar) and Scott Travis (drums),along with former members K.K. Downing (guitar),Les Binks (drums) and late drummer Dave Holland.
In a new interview with Rolling Stone magazine, Halford was asked if the Rock Hall made "the right calls" in terms of which members of PRIEST will get inducted, to whih he responded: "Absolutely, yes. Absolutely. In terms of ticking the boxes of how long you've got to be in, and this, that and the other, yes. Whoever has been attached and related to JUDAS PRIEST has had a role to play. I think the significance of the way they've chosen these particular musicians is correct."
On whether he would be open to perform with Downing and Binks at the ceremony, Halford said: "Absolutely. As I said before, you've got to push aside anything that gets in the way. You've got to remove the emotional clutter and just reference this great celebration. Otherwise, if you don't do that, and you leave the building, a couple of years later you'll go, 'What the hell? Why didn't we do that?' It's a few hours, but those few hours last forever.
"We've seen it time and time again with the Rock Hall. 'She's coming, he's not coming, why isn't he coming? He said this, and he said that. All this drama. The music matters. It's all about the music. It's all about the Rock And Roll Hall Of Fame induction."