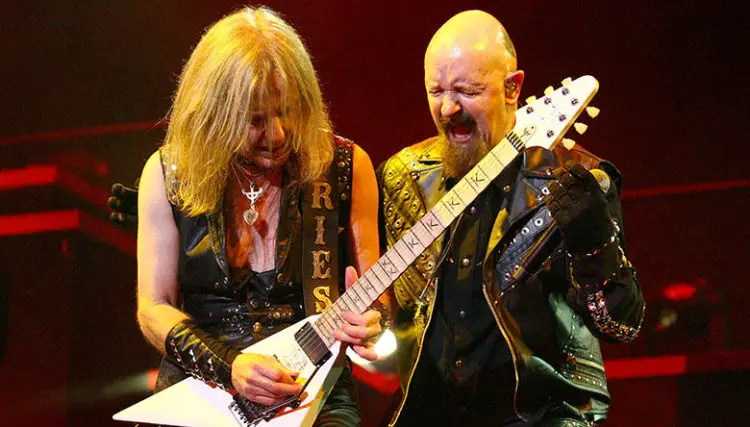 In a new interview with the San Antonio Current, JUDAS PRIEST singer Rob Halford was asked if performing with original guitarist K.K. Downing at the Rock And Roll Hall Of Fame ceremony helped put aside some of the acrimony that has shown about not being in band for these last few tours.
"I think we should let the music speak for itself, really, because as you'll see from the performance — I think it's going to be on HBO soon — you'll see that all of that other stuff is irrelevant," Halford responded. "All the things that have been said and suggested just float off into the air. What matters is what's going down on that stage at that time you're performing together. And there he is on my right-hand side. It just felt like he was always there.
"Look behind me and there's ['70s-era PRIEST drummer Les Binks], and the memories just are overwhelming. But, more than that, you're focusing on the moment that you're back together again and playing live. It was really a whirlwind. We were in each other's company for a very, very short space of time. We had very little time to communicate. But for the purpose of the induction of the Rock And Roll Hall Of Fame together, it was absolutely crucial that K.K. and Les were there. They were inducted, they needed to be in the room. And more than that, we were thrilled that they took the opportunity to say, 'Yeah, we'll come and jam on stage again with you guys.'"
PRIEST received the Musical Excellence Award at the event, which honored Eminem, Dolly Parton, DURAN DURAN, Lionel Richie, Pat Benatar, EURYTHMICS and Carly Simon in the Performers category.
The PRIEST members that got inducted include current members Rob Halford (vocals),Ian Hill (bass),Glenn Tipton (guitar) and Scott Travis (drums),along with former members K.K. Downing (guitar),Les Binks (drums) and late drummer Dave Holland.