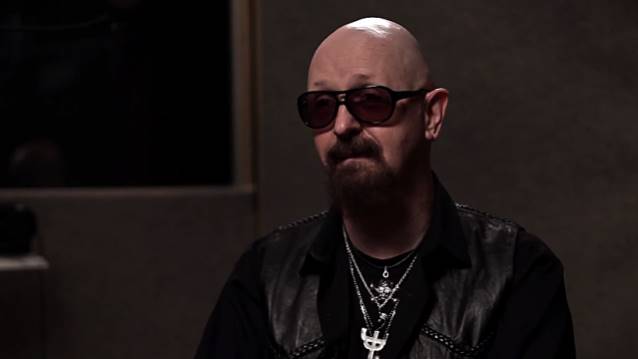 While on the "black carpet" at this year's Loudwire Music Awards on October 24 in Los Angeles, California, JUDAS PRIEST frontman Rob Halford spoke to LA Metal Media about the band's forthcoming album, "Firepower", which will be released in early 2018.
"Well, it's a really great moment for PRIEST in lots of ways," Halford said (see video below). "Because it's our eighteenth studio album, you never know what you're gonna do, you never know what you're gonna make — you don't have any real agenda. You just try and carry on making the spirit and the metal that you've been doing for over four decades. And then you sit in a room and somebody [plucks] a note on a guitar and you go, 'Oh, that's a good note,' and then you add another note, and then you're off and running.
"We have a lot of fun making our records," he continued. "We don't find them… It's not really a chore, or it's not really a struggle — it's just a great thrill and an opportunity to see what we can still do as a metal band.
"But I've been saying from Richie's [Faulkner, JUDAS PRIEST guitarist] perspective… Richie joined the band around 'Redeemer Of Souls' and he did some great work on that record, but this record, he's just mindblowing. His writing particularly, but his lead guitar work is absolutely stellar."
British heavy metal legends JUDAS PRIEST will release their new studio album, "Firepower", in early 2018.