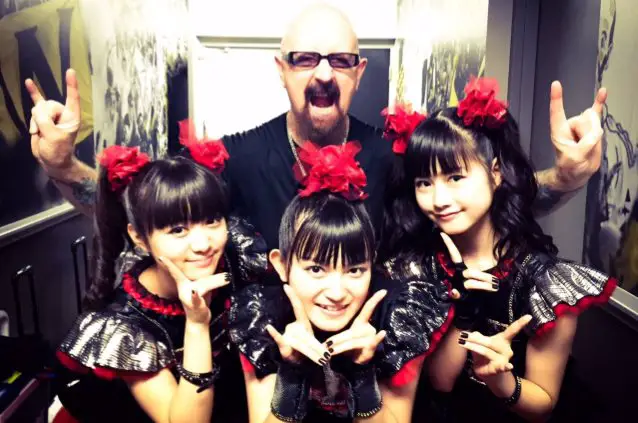 More than a month before JUDAS PRIEST's scheduled concert in Singapore with BABYMETAL, singer Rob Halford praised the Japanese pop-metal act, telling Bandwagon in a new interview:
"I think BABYMETAL are one of the most unique metal experiences in the world right now. Not only their appearances, and their style and everything that surrounds them visually but they're an incredible band as well. I met the band a couple of years ago in America and they're so passionate about metal, they know everything about metal music and they've created a very special feeling and experience within the entire world of metal. They work extremely hard to create something unique and I think it's paying off and they're doing such an amazing job. In fact, I was watching the new music video for 'Starlight' and even with one member leaving, they still sound great."
Two years ago, Halford joined BABYMETALfor their appearance at the 2016 Alternative Press Music Awards in Columbus, Ohio. He performed two PRIEST classics"Painkiller" and "Breaking The Law".
"That was really intense; BABYMETAL give a thousand percent just like PRIEST," Halford said in a statement after the performance. "They're leading the charge into the new frontier of heavy metal."
"It was really amazing and fantastic," BABYMETAL's Su-Metal said. "A collaboration with Rob Halford, the 'Metal God,' has always been my dream. I never imagined that dream would come true!"