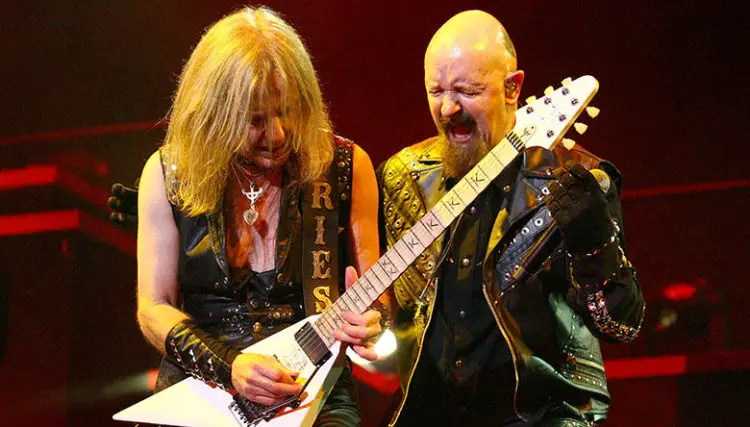 In a new interview with Spain's Mariskal Rock, JUDAS PRIEST frontman Rob Halford was asked if he has heard new group founder by his former bandmate K.K. Downing — KK'S PRIEST.
"Well, I haven't heard it," Rob, who is promoting the recently released limited-edition PRIEST box set "50 Heavy Metal Years Of Music," responded. "And when I will, I'll let you know. I'd much rather stay focused on this celebration of 50 years, [on] this box set. This box set is an extraordinary representation of this lifestory that this band has gone through."
KK's PRIEST, the band comprised of renowned former Judas Priest guitarist, K.K. Downing and former vocalist Tim "Ripper" Owens, along with bandmates Tony Newton, AJ Mills and Sean Elg have released their debut album, Sermons of the Sinner, October 1, 2021 via Explorer1 Music Group/EX1 Records.
In a recent interview with Brazil's Diário De São Paulo, Downing was asked if there is any chance of him ever returning to PRIEST.
"No. I asked [them] many, many times in writing," he responded. "Even before doing this project, I said, 'Are you absolutely sure?' And they said, 'You're out. The door is closed.' So then I decided to put KK'S PRIEST together, and that's the only choice I've got. And now I'm fine with that. I don't see that there's any other option ever.
"I think it's absolutely unbelievable that Rob [Halford, PRIEST singer] left the band for 12, 14 years, Glenn [Tipton, PRIEST guitarist] did solo albums with other musicians, but I was the loyal [member of] PRIEST," K.K. continued. "And I introduced them into the band in the beginning.
"For them not to allow me to continue… Because they told the world that I had retired, so why not allow me to come back out of retirement, if that's the only problem, the only issue, when there was an opportunity. But there's a lot of misinformation. So, without going into too much detail, I just need to move on."