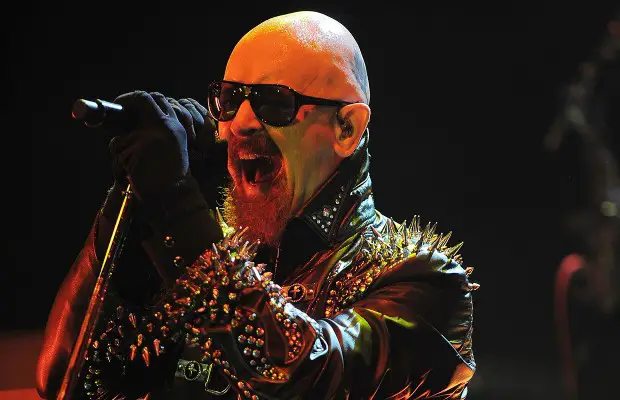 During a recent appearance on "Dr. Dot," legendary singer Rob Halford was asked about the lack of curse words in JUDAS PRIEST songs.
"I love to swear, but I use it in a fun way, I use it in an expressive way — getting your emotions out," Halford responded. "But I don't really think that it has much of a place in our world — in PRIEST. I mean, I see and hear it a lot in certain types of music, and, hey, that's your thing — it's your choice.
"Music and all art should not be censored. Once you start censoring art, it multiplies and it becomes a very dangerous thing to do. Again, it's all about choice. If you don't like something, don't listen to it. If it's something on the TV that's making you angry, change the channel. If something makes you angry on social media, go somewhere else.
"But for me to use explicit language in a PRIEST song, I don't think I've found the moment yet," he added. "I have a lot of friends in metal that utilize the power of those words. If that's the word that really emphasizes a part of your message, then, by all means, you should use it."
One of heavy metal's all-time greats, JUDAS PRIEST, will finally get the opportunity to celebrate their 50th anniversary this year with the launch of a North American tour this fall. The 50 Heavy Metal Years Tour will also feature SABATON as openers and is being fueled by the highest charting album of PRIEST's career, Firepower, which peaked at #5 on the Billboard 200.
Produced by Live Nation, the North American tour – which will run throughout September (kicking off on September 8th in Reading, PA) and November (concluding on November 5th in Hamilton, Ontario), will feature a variety of special effects, which will undoubtedly enhance the might of PRIEST's metal.
Tickets and dates for the tour are available here.