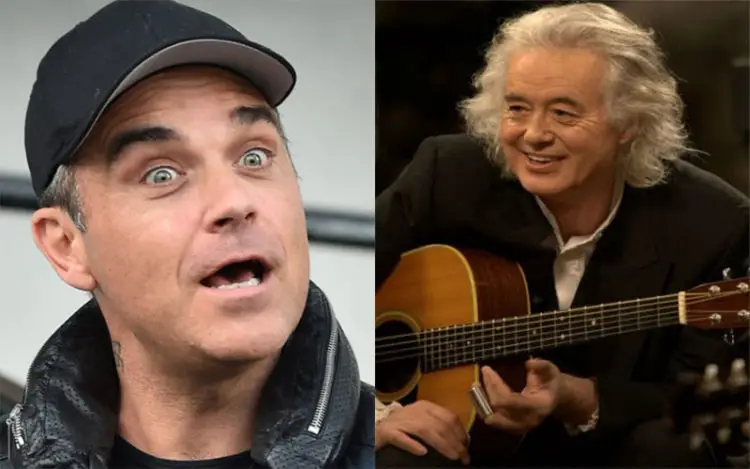 Last year, The Telegraph reported that singer Robbie Williams has reportedly resorted to some peculiar methods of annoyance in the ongoing "bitter feud over a basement extension" with his neighbor, LED ZEPPELIN guitarist Jimmy Page.
According to reports, Williams has played rock arch-rival bands BLACK SABBATH, PINK FLOYD, and DEEP PURPLE, and has even been dressing up as iconic ZEPPELIN singer Robert Plant, just to annoy his next door neighbor Jimmy Page.
During an appearance on SiriusXM's Volume, Williams was asked about his feud with Page, to which he responded: "No, like, I want to build a basement in my house because it's a really sound investment idea and the right honorable Jimmy Page, who lives next door, doesn't want me to do that."
And I think he thinks it is going to damage his house," he continued. "And I could promise him it's not but here's the thing: Jimmy Page lives next door!"
When asked if he really started blasting SABBATH, Williams replied: "Okay, here's what's happened. Somebody left a comment underneath a news article saying: 'I'm a neighbor and I've seen Robbie Williams dressed as Robert Plant with a pillow underneath his t-shirt, blasting out Robert Plant songs and BLACK SABBATH songs.'
"And the newspapers, in their infinite wisdom, knew that this was a joke but printed it as it was true."
He added: Whether it's true or false, it doesn't matter, if leads, it leads. So they put it in. Now listen, I thought that story was hilarious so I didn't mind that being out there at all. But alas, it's not true.