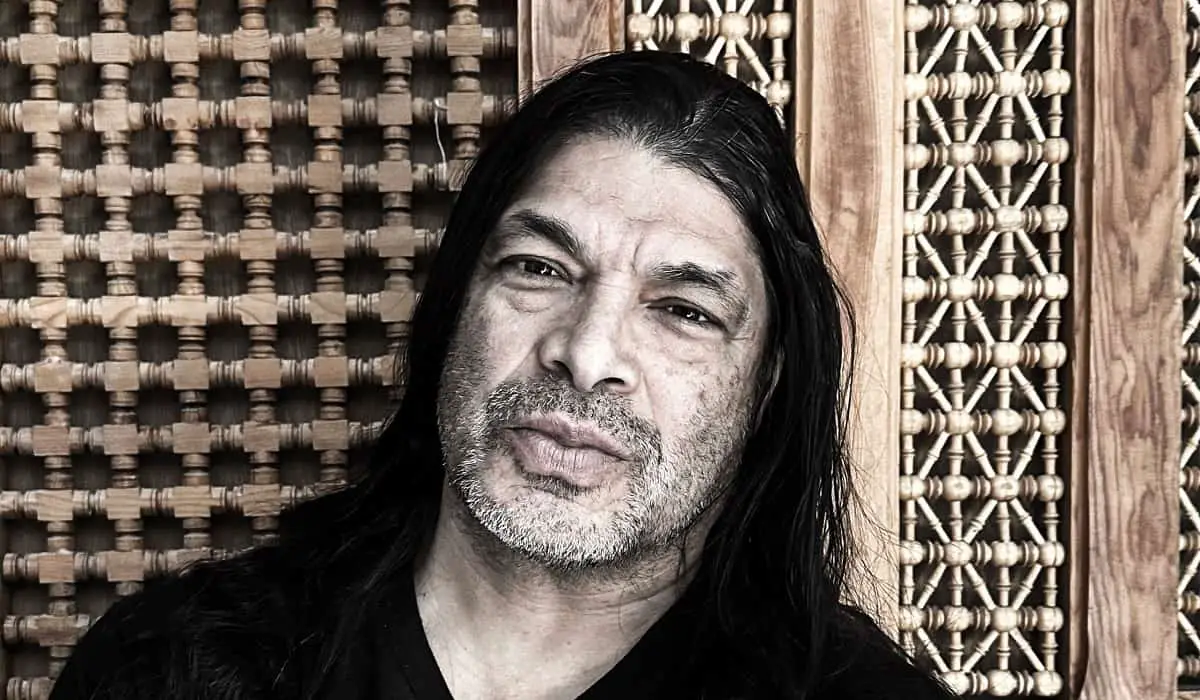 In a recent conversation with METALLICA's fan publication So What!, Robert Trujillo disclosed that he provides vocal input for a track titled "You Must Burn!" featured in the group's forthcoming studio record, 72 Seasons.
"When I joined METALLICA, I'd never sung in my whole life, so the fact that I can now support a backup vocal is pretty cool," he said. "For the first time in my life, I get to sing on a METALLICA record and support James [Hetfield, METALLICA frontman]. I'm very proud of that… It's the first time that James and [co-producer] Greg [Fidelman] had probably ever really trusted me with that position on a recording of this stature.'
"I was surprised when I got the call from Greg because I was coming up to play a little bass, but then he said, 'I'm going to have you sing on a couple things, too.' And I was, like, 'Really?' I got a little nervous. At the same time, I was very motivated," Robert continued. "Fortunately for me, the part really does suit my comfort zone, so to speak. The vibe and the interesting — I don't know, I wouldn't say the 'quality' in what I had to offer, but the part lends itself to my personality, to my voice, and it sits and slots in really well with the moment and bass breakdown. So it's cool that it's this breakdown that James and I were able to jam on and create, and then I get to sing on it too."
In terms of the musical assembly of "You Must Burn!", Trujillo said: "One of the things that I was excited about in joining METALLICA was the idea that I'm going to learn how this band creates and develops songs, taking the seed and [seeing] how that grows into a beautiful composition or a powerful, heavy song.
"Watching the rhythmic approach to vocals, conceptual vocals, and melodic elements with rhythmic elements. Lars [Ulrich, drums] infusing the tribal percussive ingredients that he does on a lot of these songs. Kirk's [Hammett, guitar] feel, he's got a lot of soul. So for me, it's just a really, really incredible learning experience, and one that I can be a part of creatively but also just support.
"But to address 'You Must Burn!' We're taking an idea that birthed itself in the tuning room, and we start to cultivate it. How do we cultivate it? We jam. It starts to take shape, it kind of builds itself, and then at some point, it finds its way. With this particular middle section that came to be, that was really centered around a jam and was very moody, and there's a danger to it; I like how the bass is walking. It's got a feel to it where it's 'walking through a forest,' like a scene from a Tim Burton movie or something. That's the feel I get.
"And James and I just started kind of grooving on it. It was just the two of us. That was a special moment for me because whenever I can find that magic carpet with James, it's really a lot of fun. You know, we just sync in; it's like we're riding this wave together. With 'Suicide & Redemption' [from 2008's Death Magnetic album], it was the same kind of thing. We were in — I wanna say it might've been South Africa, and I started playing the pulsating bass line. Then he started to hit these power chords, kind of counterpoint and tension chords, stuff like that. So it's always fun when you find that moment where something starts to work."
METALLICA's upcoming album, 72 Seasons, will be released on April 14th, 2023.
72 Seasons is the band's first new material since 2016 and it will be released in formats including 2LP 140g black vinyl and limited-edition variants, CD and digital.
Hetfield previously spoke on the concept of the album, saying: "72 seasons. The first 18 years of our lives that form our true or false selves. The concept that we were told 'who we are' by our parents. A possible pigeonholing around what kind of personality we are. I think the most interesting part of this is the continued study of those core beliefs and how it affects our perception of the world today. Much of our adult experience is reenactment or reaction to these childhood experiences. Prisoners of childhood or breaking free of those bondages we carry."