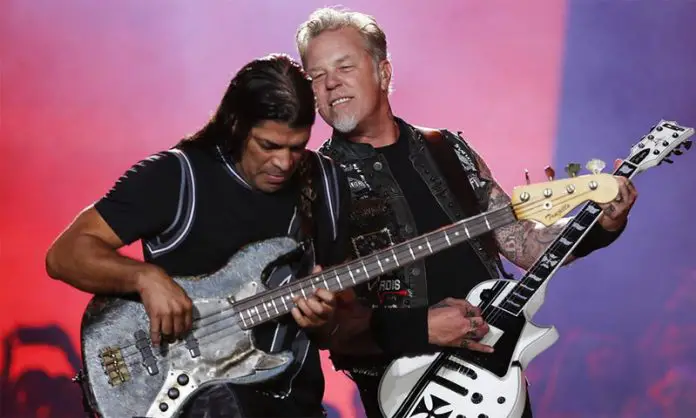 Bassist Robert Trujillo talked about the importance of the groove factor in METALLICA, telling Polar Music during a recent interview: "I'll go back to Jaco Pastorius, 'cause it was always about the groove. No matter what he was playing, whether it was a ballad or a bebop song or something really funky, there was always the groove. And it's the same with METALLICA.
"I always say James Hetfield is the best drummers in the world, on his guitar. Because he is really a groove machine. with that instrument.
"It's an unusual combination of players [in Metallica] but it words – everybody's unique and different in their own way and we come together and do what we do. And I think that's what the crowd feels when they see us or hear our music.
"The new album ['Hardwired… To Self-Destruct'], to me, is interesting because there's really a powerful presence in the rhythm section, which is really exciting."
METALLICA's latest album, "Hardwired… To Self-Destruct", was certified platinum on April 12 by the RIAA(Recording Association Of America), meaning every one of their studio albums has reached or surpassed this milestone.
"Hardwired… To Self-Destruct" debuted as expected at No. 1 on The Billboard 200 album chart last November, selling 291,000 copies in its first week of release. Both of the band's previous outings, 2008's "Death Magnetic" and 2003's "St. Anger", sold more copies in shortened sales weeks. "Death Magnetic" moved 490,000 copies in a three-day window, while "St. Anger" shifted 418,000 copies in a similar frame.