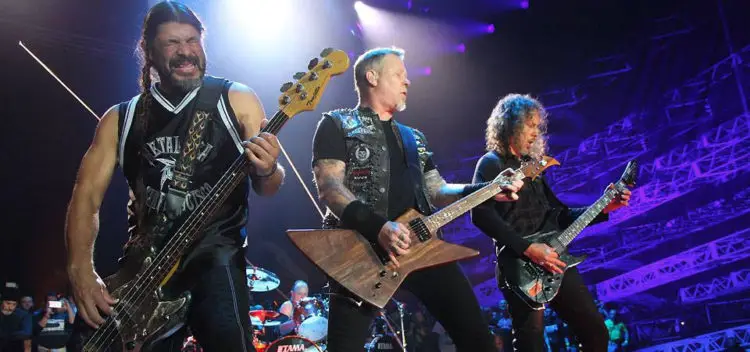 Hard rock and heavy metal might not be the first links that pop into your mind when you think about the word mainstream, but fact is that these music genres are becoming increasingly popular also outside their hard niche. Slowly but surely, heavier music is making its way into films, games and everyday events, making it both more accessible and possible more influential.
Hard Rock Casino
Fast payout casinos are most definitely not known for their metal atmosphere, but they do seem to realise that many players are fans of both hard rock and heavy metal. Motörhead, Kiss and Guns N' Roses have all gotten their own slot machines named and themed after them, bringing both their image and music into the casino scene. There are plenty of fast payout casinos that offer these slot machines, making them available to players all over the world.
Hard Rock Hallelujah
While the Finish hard rock band Lordi might not be on everone's top list of favorite bands, their 2006 entry into the Eurovision Song Contest took the continent with storm and ended up banking a number one spot with a record 292 points. Lordi also paved the way for harder entries in later years, culminating in the 2021 win of Italian rock band Måneskin with their song Zitti e buoni. While Måneskin won't be classified as heavy metal, their music has a definitive harder quality than what we're used to seeing in the Eurovision Song Contest, something that could also mean an opening for other harder bands to follow.
Heavy Metal Movies
While hard rock and heavy metal aren't favorite plot features in movies, there exists an important spot for hard music in soundtracks. This was possibly even more popular back in the 80s and 90s, the heyday of hard rock around the globe. Great examples of heavy metal and hard rock in movies include Metallica's I disappear in Mission: Impossible 2 (2000), Slipknot's My Plague from Resident Evil (2002) and Megadeth's Angry again from Last Action Hero (1994). Not surprisingly, this style of music lends itself very well to hard packed action movies and creepy horrors, where the music is set to complement violence, suspense, and eerie twists.
T-shirt Heaven
As most metal and rock fans will have notices, t-shirts depicting metal bands and their albums have heavily made it into the mainstream, and especially after the rise of fast fashion. The Ramones, Black Sabbath and Iron Maiden have all made their way to mass-produced garments sold in chains all over the world, making metal a statement piece in a wardrobe that otherwise might not reflect the general sentiments of the music genre. Some metal fans find this development a nuisance, preferring to keep metal and rock imagery within the fanbase. However, this spread of imagery and band names could be a catalyst in helping young people explore music they would otherwise not be introduced to, and that is something to applaud.
The mainstream – good or bad?
When it comes to rock and metal in the mainstream, the environment itself seems to be torn. One fraction would rather not see metal rise from the underground and would prefer it to be kept to its roots – pure, unadulterated and honest. Others see the value in spreading the music they love to other environments and recognise the need for at least a degree of mainstream involvement for this to be possible. It's hard to say who is right, and at the end of the day there is little we can do to affect the moving of mainstream attention either way.