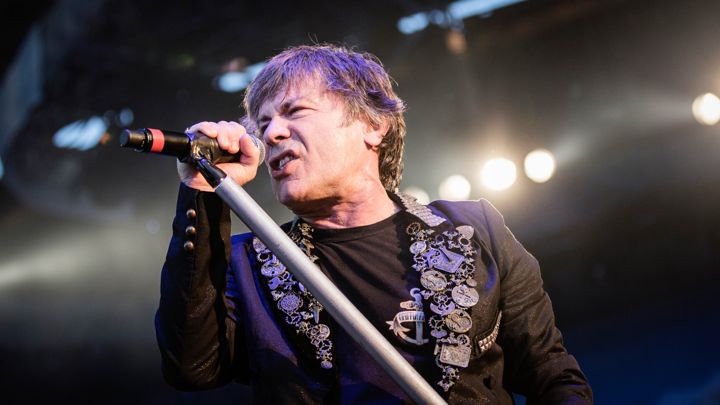 Rock And Roll Hall Of Fame president and CEO Greg Harris has addressed criticism from rock fans over recent IRON MAIDEN snub.
Even though artists are eligible for the Rock And Roll Hall Of Fame 25 years after the release of their first album or single, iconic hard rock and metal groups like MAIDEN, JUDAS PRIEST and MOTÖRHEAD have yet to be recognized by the institution, which inducted GUNS N' ROSES in that band's first year of eligibility.
When asked if he believes MAIDEN is worthy of being inducted into the Rock Hall, Harris responded during his chat with Joe Rock of the WBAB radio station: "There's no doubt that [IRON MAIDEN] are an impactful, influential band, and that's why they were nominated this year, along with 15 other artists and acts, and when the votes came in, these six were the leaders. So we're not questioning, are they an important band, are they impactful and influential.
FOO FIGHTERS, THE GO-GO'S, Jay-Z, Carole King, Todd Rundgren and Tina Turner will be inducted into the Rock And Roll Hall Of Fame this year. Additionally, LL Cool J, Billy Preston and Randy Rhoads will receive the Musical Excellence Award. KRAFTWERK, Gil Scott Heron and Charley Patton will get the Early Influence Award, and Sussex Records founder Clarence Avant will be given the Ahmet Ertegun Award.
"Of those that have been nominated throughout history, over 80 percent of them have been eventually inducted into the Rock And Roll Hall Of Fame. So everybody has their favorites; everybody has different artists that impacted them or impacted other artists. So, if you look at this list, you can make that case for all of these folks, just like people make that case for IRON MAIDEN."
Bruce Dickinson previously slammed the Rock And Roll Hall Of Fame, saying that he is "really happy" IRON MAIDEN has not yet been inducted.
Dickinson described Rock Hall as "an utter and complete load of bollocks run by a bunch of sanctimonious bloody Americans who wouldn't know rock and roll if it hit them in the face."