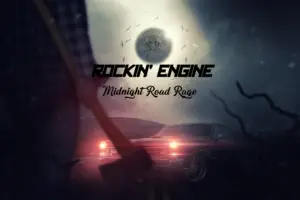 In the mood for some pulsating and estimulating Hard'n'Heavy with some cool guitar solos and instrumentals? Great music included.
You're not allowed to say no. hehehehehe So here we go.
Here we have Rockin' Engine with "Midnight Road Rage" with their adrenalized and powerfull music that reminds a lot the 1980's powerhouses that some identified as Hard Rock, Hard'n'Heavy, or simply Heavy Metal. "Midnight Road Rage" dares to follow the late, and almost dead, tradition of songs about women, cars, parties, and more girls. I don't about you, but those are appealing to me specially the women part. But taste is something we all have and we never discuss.
The fun begins with the infamous "Shake That Ass." A title couldn't be more fit because as soon as the song starts you feel an instant urge to boogie – no, I won't say shake that *ss. Too easy even for me. Then you have "When Engines Collide" with a thrash cadence full of boogie riffing and that constant drum pounding that makes everyone go crazy. Absolutely, "Midnight Road Rage" isn't an album to make you stay still. It's impossible. I'd say it's a Def Lepard in their better times as the "On Through the Night" era with more adrenaline. But things get real crazy with "The State Of Nature" an its incredible intro with a delicious guitar and military drum pounding to get into one of the most dazzling guitar riffs I've ever heard. I was wrong when said "Midnight Road Rage" had only Heavy Metal and Hard Rock influences, Thrash Metal is also present giving it a dynamic that it is hard to follow. Yeah, "Midnight Road Rage" is an album very near the perfection even if you're not into the kind of music they do.
It may be redundant, but this is the album to listen while driving in an empty road where you can test the power of your engines. Okay, almost impossible these days, but… "Midnight Road Rage" has great instrumental ideas. It's an album that makes us proud. Love at first sound. It's such a pity that it is only of eight tracks. Believe me. You won't regret.
Rockin' Engine "Midnight Road Rage" was released on March 31st.
Track Listing:
Shake That Ass
Let's Roll the Dice
Livin' a Lie
When Engines Collide
Never Surrender
The State of Nature
Hiding in Darkness
Road Rage Boogie
Watch "Hiding in Darkness" official music video here: