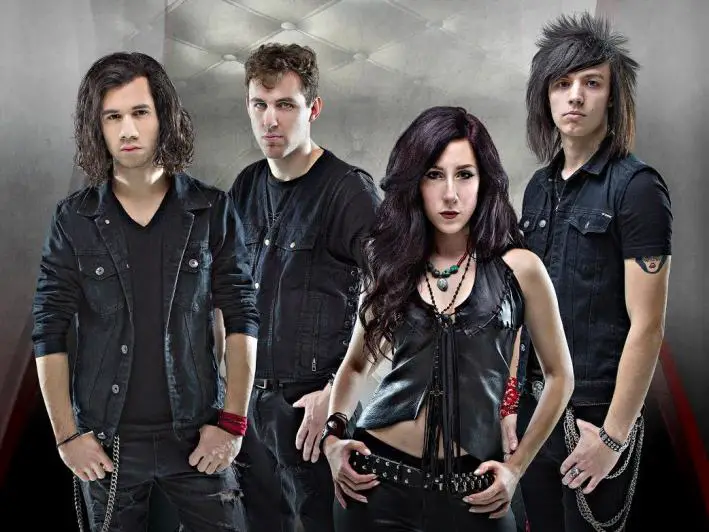 ROMANTIC REBEL announced a North American Summer tour with SMILE EMPTY SOUL that begins on July 14th in Joplin, MO and concludes September 14th in St. George, UT.
"Too Far", the new single from hard rock band ROMANTIC REBEL premiered on Revolver.com in April. The track is off of their forthcoming EP to be released early Summer 2016 and is available for purchase on iTunes. The video of "Too Far" can be seen below.
The band is currently in the studio with Grammy nominated producer, Johnny K(Disturbed, Pop Evil, Sevendust, 3 Doors Down, Megadeth, Machine Head, Nonpoint, etc.) where work has begun on their sophomore album.
"This EP is very special to us. Alex and I wrote these songs from the heart; about past experiences and struggles. That said, we were very attached to them and didn't want to see them change. Johhny, being the multi talented producer that he is, helped us take the songs we thought couldn't get any better, to a whole new level. It's amazing how a simple change in melody can make me feel even more emotional about a song than I had felt previously." Says KT Paige.
Tour Dates with SMILE EMPTY SOUL:
7/14/2016 Guitars Rock 'n' Country Bar Joplin MO
7/15/2016 Fubar St. Louis MO
7/16/2016 Outland Ballroom Springfield MO
7/19/2016 Open Chord Knoxville TN
7/20/2016 Hard Rock Café Louisville Louisville KY
7/22/2016 Oddbodys Dayton OH
7/23/2016 Six Pence Pub Parkersburg WV
7/24/2016 The Gin Mill Northampton PA
7/26/2016 Mac's Bad Art Bar Syracuse NY
7/27/2016 Pineapple Jack's Rochester NY
7/28/2016 The Outpost Kent OH
7/29/2016 The Music Factory Battle Creek MI
7/30/2016 The Machine Shop Flint MI
7/31/2016 Long Shot Rock Falls IL
8/2/2016 Top Fuel Saloon Braidwood IL
8/3/2016 District Bar & Grill Rockford IL
8/4/2016 H.O.M.E Bar Arlington Heights IL
8/5/2016 Q&Z Expo Center Ringle WI
8/6/2016 The Venue Dubuque IA
8/7/2016 The Metal Grill Cudahy WI
8/9/2016 Opinion Brewing Company Newport MN
8/10/2016 Bigs Sports Bar & Billiards Sioux Falls SD
8/12/2016 The Afterlife Lounge Algona IA
8/13/2016 Shamrocks Omaha NE
8/14/2016 The Voodoo Lounge at Harrahs Kansas City MO
8/16/2016 The Vanguard Tulsa OK
8/18/2016 The Rail Club Fort Worth TX
8/19/2016 Clicks Tyler TX
8/20/2016 18th Street Pier San Leon TX
8/21/2016 BFE Rock Club Houston TX
8/23/2016 Boneshakers Corpus Christi TX
8/24/2016 The Patio at La Nueve Luna Abilene TX
8/25/2016 Backstage Lubbock Lubbock TX
8/26/2016 Lowbrow Palace El Paso TX
8/27/2016 The Co-op Albuquerque NM
8/28/2016 Sunshine Studios Live Colorado Springs CO
8/30/2016 City Hall Events Venue Denver CO
9/2/2016 Z Bar Spearfish SD
9/3/2016 Rock Point Bismarck ND
9/4/2016 Bernie's Esquire Club Dickinson ND
9/6/2016 Pub Station Billings MT
9/9/2016 Studio Seven Seattle WA
9/10/2016 The Pin Spokane WA
9/11/2016 Faultline North Bozeman MT
9/14/2016 Firehouse Bar Saint George UT
https://www.youtube.com/watch?v=35AAZcpTL-o