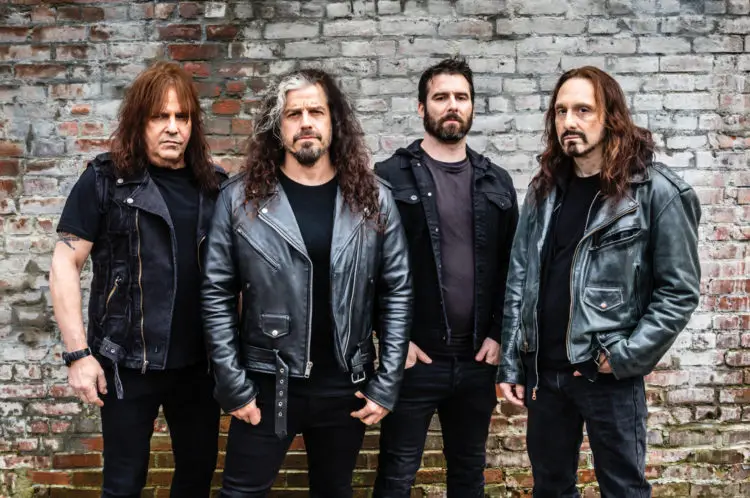 One can't talk about genre defining acts in the metal scene without mentioning one man: Ross "The Boss" Friedman. Having already written music history as a founding member of both Manowar and The Dictators, his influence in heavy metal and also punk is noticeable to this day. Manowar's first six masterpieces – which saw him significantly involved in between 1982 and 1988 – are immortal classics today, and that the band wasn't able to deliver the same quality again after his departure speaks for the New York based guitarist and songwriter. Since 2006, Ross has been once again releasing traditional and raw epic metal – which conjures up memories of the Manowar masterpieces from the 80's with its very own style.
Ross' latest effort, "Born of Fire," will be released March 6, 2020, and is the fourth album of Friedman and his band (with input from mixing engineer Seeb Levermann) – which arrives not even two years after their chart breaking 2018 effort, "By Blood Sworn." While Ross the Boss used this time for extensive touring, they still found time to build their latest epics – which will undoubtedly excite fans worldwide.
"My full touring band was present – Steve Bolognese on drums, Mike LePond on bass, Marc Lopes lead singer," explains Ross. "We did the record in a different manner than the last time. By Blood Sworn was done working up the songs in rehearsal. This time for Born of Fire we created demos and we did the arrangements on the demos. Once we had the great sounding demos, we went into the studio of our amazing engineer, CJ Sciøscia, and recorded the drums, bass and guitars. We were off to the races!"
"Not really anything different – how I approach a solo album compared to my work with Manowar. In the old days, it was Joey [DeMaio] and I working up the songs – doing demos, just like we do now. Then presenting them into the rehearsal room and working it up from there. Basically, it's the same process of songwriting, adding and subtracting parts. I think this time, it was just more streamlined. It was more time efficient. Yet, the songs are incredible. Everything worked out very well. The six Manowar albums I did worked out as well, there's no doubt about that!"
And with just about almost every metal album that Ross has ever been involved with, there is eye-popping artwork that is featured on the album's cover. "All I knew is I didn't want the same boring warrior sword BS. I'm pretty much done with that.
It's time for something fresh – time for something new. Marc had some great ideas. He said, 'How about a strong woman on the cover?' I said, 'I'm for that.' Marc's original ideas were transferred to our artist in France, Stan Decker, who did the "Born of Fire" of cover. I think the album artwork is sensational."
And the album is just the beginning of a very busy year for Ross and company. "We are starting our North American tour now.
We have a 26 show US tour, then we are going to go to Europe for a month in April – with Burning Witches and Asomvel supporting us. It's going to be a fantastic tour. I think from the summer and on we will be filling in dates, judging from the acceptance of our new record."
"Our live reputation has grown immensely. We deliver every night. Metal excitement like no other band can. I put my band up against any band on the planet right now. Our live shows are great. We deliver wherever we're playing 100%. The new music is going to start being introduced in the set, and a lot less Manowar material. But whatever we do is 100% rock action."
Born of Fire is pounding yet fresher and heavier out of the speakers than before – without forgoing any of the typical Ross the Boss trademarks. And Ross' future plans are simple. "Touring hard. Doing well. And just continue doing what we're doing. I think the record will speak for itself, and the future will be golden for this band."
Read our review here.