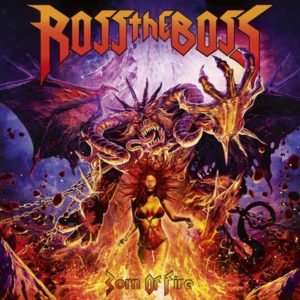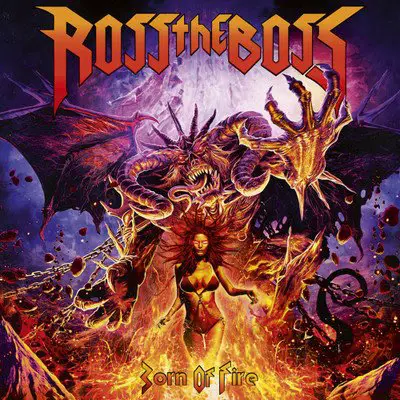 Ross the Boss "Born of Fire" One of the most exciting albums of this year that is on its first, and careful, steps. The album shows a polished talent who besides being a remarkable guitarist really knows how to write songs that amaze the fan. For the deception of the Manowar fan, Ross the Boss 'Born of Fire" doesn't go an inch near what the man used to do in his former band. I assume it is on purpose due to the serious issues he had with his former bandmates. Well, from where I'm standing, however, this turned out to be a quality for the fan's sake because this album is so acid an corrosive that it should be enlisted as a dangerous chemical component. I have to posit that Marc Lopes vocals contributed a lot to this happen due the unique features of his voice.
'Born of Fire" is one of the albums that I didn't have to listen to it all to start writing this review. It's not a rare situation, though I must say. When the album impresses, it impresses and the review flows easily. Though, some of even the most hardcore Manowar fan have their doubts about Ross "The Boss" Friedman as a guitar player, I've never doubted his prowess with the six-strings. On the other hand, I've read some real unfair critical texts about his ability to deal with the instrument. I have to say that I don't agree with them in no way. I respect a lot his years with Manowar. Moreover, after this 'Born of Fire" I respect even more.
It would be so simple to say that 'Born of Fire" is an 1980s Metal piece. And, I have to mention, incorrect. This album is fresh as hell. It is hard and blunting. The twelve tracks it contains go easyly and smoothly – a matter of saying, okay, because this album is anything but smooth. There are also echoes of the great warriors of Primal Scream and of Judas Priest's "Painkiller" era. "Shotgun Evolution" shows it pretty well or its following "Denied by The Cross" with its acid critique to the religion. However, there are no punk traces in it whatsover however The Boss background with The Dictators except for the opening track "Glory to The Slain" whose almost untraceable punk sings do appear. I ought to say that Ross "The Boss" Friedman was really thirsty for blood when he wrote the material.
Ross the Boss 'Born of Fire" is an effort to be proud of.
Ross the Boss 'Born of Fire" will be released on March 06th Via AFM Records.
Track Listing:
Glory To The Slain
Fight The Fight
Denied by The Cross
Maiden of Shadows
I Am The Sword
Shotgun Evolution
Born of Fire
Godkiller
The Blackest Heart
Demon Holiday
Undying
Waking The Moon
Watch "Denied by The Cross" official lyric video here: