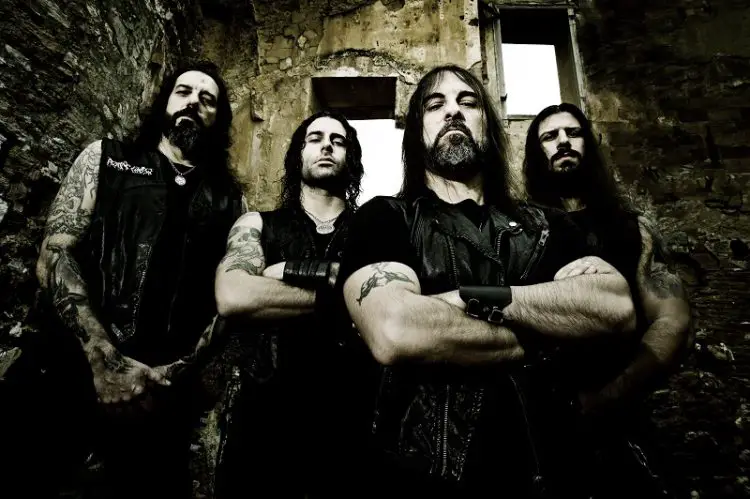 The Greek metal veterans of ROTTING CHRIST are now premiering another track of their upcoming record The Heretics. The new offering is slated for release on February 15th, 2019 via Season of Mist. The Russian themed track "Ветры злые (Vetry Zlye)", featuring Irina Zybina (GRAI), can be heard below.
Front man Sakis Tolis comments on behalf of the band: "Dear fellows, I am in the pleasant position to present to you another new song I wrote for Rotting Christ; 'Ветры злые' (Vetry Zlye). A song that was influenced by paganism and specifically from the Slavic pagan religions through the history of time and exalts the power of mother nature. I Hope you will enjoy the (probably) most melodic song from our upcoming album 'The Heretics', accompanied by the beautiful voice of Irina Zybina."
ROTTING CHRIST have reached another peak in their long career that now spans over more than three decades. The Greeks have literally stood the test of time. With a steady core line-up and their well-honed live delivery, ROTTING CHRIST are filling concert halls and reap enthusiastic crowd reactions wherever they go. This demonstration of love from their followers is not just driven by nostalgia as the band has managed to evolve and grow, while staying relevant beyond the classics with their highly acclaimed latest albums such as Aealo (2010), Κατά τον δαίμονα εαυτού (2013), and Rituals (2016).
Now, with the new offering 'The Heretics', ROTTING CHRIST are opening a brand new chapter. With confidence and skills derived from experience, each song represents its own sonic universe. Guitarist and vocalist Sakis Tolis in collaboration with his brother Themis on drums achieve a perfect balance of amalgamating their classic and unique style of riffing and rhythm with exciting new elements sprinkled in to keep their material exciting and fresh. The experienced is enhanced by Jens Bogren's equally clear and transparent yet also massive as well as sombre mix and mastering at his widely renowned Fascination Street Studios (AMORPHIS, BORKNAGAR, MOONSPELL, DEVIN TOWNSEND, and many more).