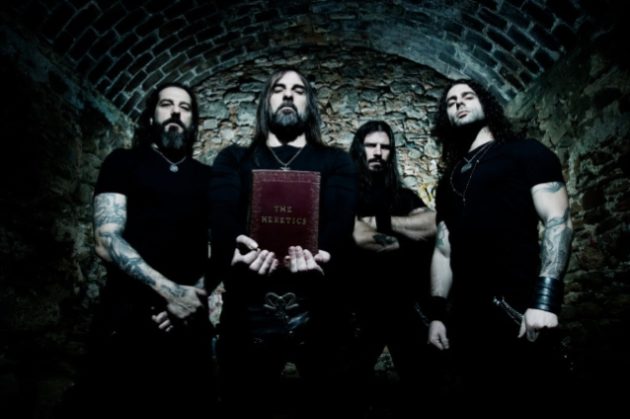 As previously reported, Greek black metallers ROTTING CHRIST announced the cancellation of Psycho Las Vegas after issues with their visa.
In a statement by Psycho Las Vegas, organizers said that "this cancellation is due to procrastination and poor planning by the band's label and petitioner."
"ROTTING CHRIST declined our offer and ignored our emails in May and July which requested an update on their application process (if the application was in transit, there would be several options for speeding up the process with a 6-week buffer). Instead, their record label and petitioner chose to wait until July 18th to submit their visa application, and didn't inform Psycho of this until July 30th, statement continued."
Now, Season of Mist owner Michael Berberian issued a statement on the matter, which can be read in full below.
"So ROTTING CHRIST cancelled Psycho fest.
"Festival made a statement blaming us (??) and the great journalists at metal sucks and some others mud dwellers were all too happy to relay it.
A few points
"ROTTING CHRIST barely canceled a single show in a decade. They are road monsters. They live on the road. They are on tour and festivals 150 days a year. This week end? 4 festivals, 4 countries with exhausting 15 hours drive between some. I saw the yesterday in CZ playing and driving to Belgium to play the next day… It's insane.
You really gonna blame that band, one of the hardest working out there, who doesn't cancel a show out a of thousand and try to hurt their image?
"Did it occur to you that ROTTING CHRIST changed band members for the first time in over a decade? And that every time you change a band member, you have to restart the visa process. ROTTING tried a few people since Feb. You know how "fast" US administration is.
"Do you know how many bands we have on tour and fest in the US per year? Yeah exactly, a ton. Ever saw a SOM band cancel for visa issue? Barely. We've been lucky I guess.
"I wasn't a part of this visa process. I just talked to Sakis yesterday, asked my US office who explained me what happened. Administration delay and unforeseen circumstances.
RC made a neutral statement. They didn't understand the Psycho reaction and were genuinely sorry not to go there.. For real.
"So as far as the Procrastination comments goes and this statement from Psycho fest. I don't know. I have been to this fest once, had a good time – what's their issue there I have no clue to be honest?? It sounds almost personal..
"We know how long and hard it is to get visas. Procrastination? Incompetence? Seriously – we're not supermen. We make mistakes. But look at Rotting Christ tour history and how many bands we had canceling for visas. Pretty much none. And there was nothing any of us could have done, in Rotting Christ or in SOM.
"So to resume : in the interesting new social media drama of the day, a festival made an accusatory statement over one of the nicest band out there and us, and some great "journalists" were happy to relay without any sort of background check. Moving on. ?"