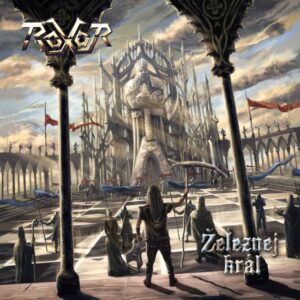 This Metal music world is always surprising me. One reviewer can never tell he/she has heard everything in life. We've been receiving all kinds of bands here. Brend new bands, veteran bands, reissues, re-releases, and the kind I like the most, bands with a history. Bands that had their time under the Sun, bands that didn't have their under the Sun but made some kind of fuzz, bands that didn't have their under the Sun and didn't make any kind of fuzz, bands that were somehow before their time, bands that were just the right expression of their time. Bottomline, all kinds of bands. Most bands we've received had English as their language. On the other side of the coin, there were all kinds of surprises around languages from extinct languages to very rare languages.
By the band name and the album tittle, my dear child of the night might have noticed that Roxor with "Železnej král (The Iron King)" fulfill some of the above. The band has a very nice history which started in 1988 from a country inside the Iron Curtain – no, my dear child of the night, I never say where the band is from. The band was active until 1996 when they split up and reunited in 2007 being active until now. Bands from the former Iron Curtain have double value because it was very hard to get a life playing Metal music back then. When I say real hard undrestand extra hard. The Metal Roxor perform here with "Železnej král (The Iron King)" is what is called today Old School Heavy Metal with some touches of 1990's Heavy Metal and some small dashes, but very small, of Thrash and Speed Metal. Except for "Cert te vem" which is the purest AC/DC spirit. The fact they sing in Czech is also a plus. The language sounds great. I say that because sometimes bands have to adapt their languages to Metal music choosing carefully words and phrases. Fun fact is that I felt like I was listening to Loudness "Live Loud" again because I had no clue what they were saying. Same here. 1990's Accept era is a great reference to my what dear child of the night will find here.
I guess I can say "Železnej král (The Iron King)" is an album of pure faithin Metal. It wasn't easy in the past, it's not easy now. To have survived all tose years is the proof of Roxor's faith in Metal music, isn't it so?
Roxor "Železnej král (The Iron King)" was released on July 11th via Heavy Metal Records.
Track Listing:
Železnej král (The Iron King)
Starej pes ( The Old Dog)
Vlci (Wolves)
Ke hvězdám (Up to the Stars)
Nesmí se stat (Must Not Happen)
Ve vzpomínkách (In Memories)
Zlodějka duší (The Soul Stealer)
Ztracená (Lost)
Poselství bohů (A Message from the Gods)
Čert tě vem (Go to Hell)
Bonus track only CD– Borci na Homolce (Great Guys from Homolka)
Watch "Železnej král (The Iron King)" official music video here: