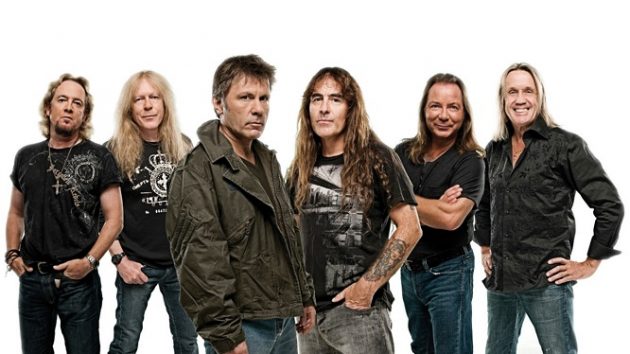 Metal Addicts has heard from an anonymous source that there are rumors IRON MAIDEN are planning a U.S. arena/stadium tour next year in support of their as-yet-untitled upcoming seventeenth studio album, with TESTAMENT and an undisclosed act serving as special guests.
This rumor comes in the wake of last week's news that IRON MAIDEN were in the middle of wrapping up their new album at Guillaume Tell Studios in Paris with producer Kevin Shirley, the same studio where 2000's "Brave New World" and their most recent album, 2015's "The Book of Souls", were recorded. These events have not been officially been confirmed by the band, but their new album is reportedly set for release later this year or next year.
TESTAMENT have also been working on a new album at Trident Studios in Concord/Pacheco, California with producer Juan Urteaga, who also recorded and engineered the iconic Bay Area thrash metal band's latest album, 2016's "Brotherhood of the Snake". The record is tentatively due for release before the end of the year.
Although IRON MAIDEN and TESTAMENT have shared the stage occasionally for over the last 20 years, mostly at festivals in or outside of Europe, the only time these two bands have ever toured together is 1992, when TESTAMENT (along with CORROSION OF CONFORMITY) supported MAIDEN on the North American leg of the latter's "Fear of the Dark" tour.
TESTAMENT also did a cover version of one of MAIDEN's classic tunes "Powerslave", which can be found in the deluxe edition of the former's 2012 album "Dark Roots of Earth".
Metal Addicts will keep you posted as more details/updates surface on this incredibly rumored tour!