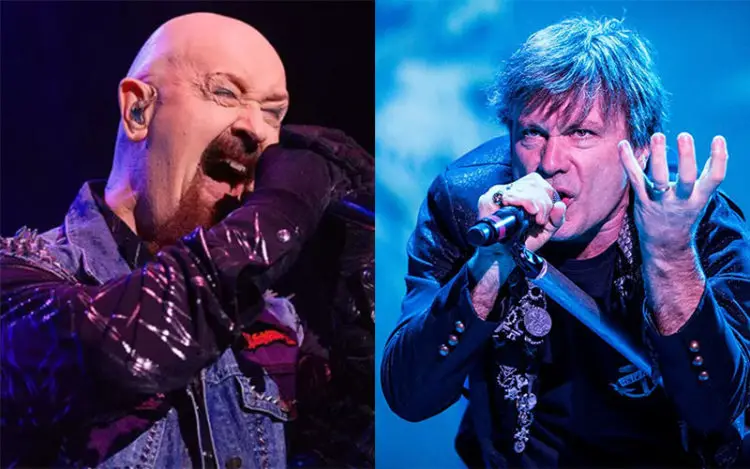 Radio host Eddie Trunk has allegedly revealed that a U.S. arena tour called "The Battle Of The Metal Gods", co-headlined by British heavy metal icons IRON MAIDEN and JUDAS PRIEST, is slated to take place in the winter and spring of 2021, with support provided by LAMB OF GOD, TESTAMENT and METAL CHURCH.
Dates are to be announced, but as reported by KNAC radio, Trunk allegedly claimed that "The Battle Of The Metal Gods" tour will visit "as many stops as possible, including L.A., New York, Las Vegas and even Canada."
This report follows up last year's rumours that IRON MAIDEN and JUDAS PRIEST were going to do a U.S. tour together called "The Metal Legions", with TESTAMENT, OBITUARY and THE RAVEN AGE filling in the support slots, though eventually this proved to be false.
IRON MAIDEN released their most recent studio album The Book Of Dreams in 2015, and have reportedly finished a follow-up record that is due for release later this year or next year. JUDAS PRIEST also have a new album in the works, which will be their first since 2018's Firepower.
TESTAMENT just released their new album Titans Of Creation, while LAMB OF GOD drop their self-titled tenth record on May 8th.
This Friday (April 10th), METAL CHURCH will release their first compilation album From the Vault, which will contain new and previously-unreleased tracks. Their latest studio record, Damned If You Do, came out in 2018, and the band are reportedly working on new material for their thirteenth album, which is tentatively due for release later this year or next year.