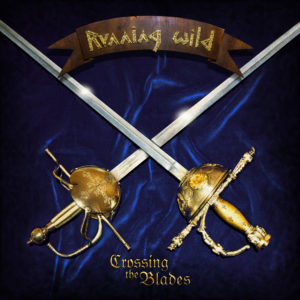 The pirates are back in town!
I couldn't help it with the excitement when I received the Running Wild's EP "Crossing the Blades" because the band represents a lot to me and to the Metal world. I've started to llisten to it many times since the day I received it. But I kept saying to myself "Man, there are hundreds of albums waiting for a review. You just can't cut the line." So, I decided to wait some more long days – a real fan knows what I'm talking about.
"Crossing the Blades"  is everything Running Wild built around the years. The same sonsnce, the same grip, the same melodic guitar phrases. Everything is there with no exception. Ah, there is a glorious exception which is a cover of Kiss classic "Strutter" which explains a lot some of the guitar work done all over the years in all Running Wild's efforts. Remember that rock'n'roll grip in solos? Aha, they come from Kiss. Mastermind Rock´n`Rolf Kasparek explains that he's a huge fan of Kiss and some of the riffs of his first band Granite Heart in 1976 came in their honor to early Running Wild's albums.
The EP opens up with title track "Crossing the Blades" which could be in every Running Wild's pirate era. The song will be part of 2020's following album with a different take, so is the promise. "Stargazed" begins with a guitar riff immeadiately takes the fan – eho knows the song – to Ritchie Blackmore's Rainbow classic "Stargazer." It's subtle, but the one who knows, and love, the song will ring the bell. Kiss' cover "Strutter" is pretty near the original with subtle touches of Running Wild. Hardcore Running Wild's fans will immediately get the difference and references. Last but not least, "Ride On The Wild Side" is a bit more cadenced with a slower tempo that makes the fan bang slower, but not that much.
Long story short, "Crossing the Blades" is promised to be an appetizer of 2020's following album. A great way to make the fan feel that lost taste of Running Wild's classics. Also, great to know that mastermind Rock´n`Rolf Kasparek calmed his head down and gave up of so many weird experiences that almost cost Running Wild's fame and fortune – not only fortune as money but also luck. Sometimes I really don't know what happens with our idols mind. Really don't know.
Running Wild "Crossing the Blades" will be released on December 06th via Steamhammer / SPV.
Track Listing: 
Crossing the Blades
Stargazed
Strutter
Ride on the Wild Side
Watch "Crossing the Blades" official lyric video here: