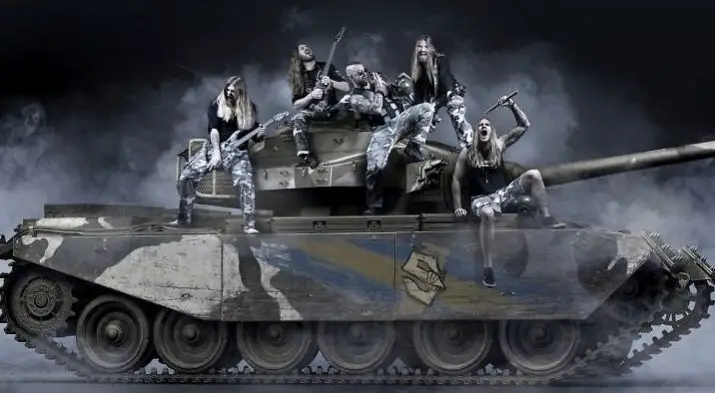 SABATON bassist Pär Sundström was recently interviewed by Andrew McKaysmith of the "Scars And Guitars" podcast. A few excerpts follow (as transcribed by Blabbermouth.net).
On remaining down to earth while SABATON's career remains busy as ever:
Pär: "I think 20 years of doing this hasn't changed [us]. Me and Joakim  [Brodén, vocals] have now been a team in this band for 20 years and none of us have changed. Okay, we have learned a lot. We have evolved. We have become sort of smarter and more clever, I guess, but nothing in us has actually changed. We still like the same kind of stuff. We are still the same kind of guys. I think this was important for me. Talking to different musicians and stuff, especially talking to young musicians. I enjoy that.
"They often ask questions 'What do you think about when you're going to form a band?' I say, 'Make sure you know exactly why you want to play music. It's not going to be something that is going to be an easy thing. But if you really want it, it will be rewarding.
"If you don't really think, but you just want to think because it's cool, then it's not going to be worth it.' Look at the team around you. Look at the bandmates. If the guys want to be on the stage, then it's all cool. If the guys want to be backstage, then it's not going to be cool. Then the guys are going to be wanting the wrong thing. They're going to find and everybody is going to discover down the road, it isn't going to be what they think it's going to be."
On whether he only trusts his bandmates in light of the fact SABATON is self-managed:
Pär: "Yes and no. In the end, we have to trust people. SABATON today is a quite big thing. We have about 20 people employed around the band. Starting in the band, everything had to be done by us, because we couldn't afford to hire anybody. So then you have to learn everything from, I guess, in the beginning, you take your guitar and you pack it in the back of a trunk, then you go and play in whatever kind of amplifier there is and that was it.
"But then, eventually, you have to learn, 'How do we get a show? How do we market ourselves?' And then this kind of an education. At a later time, you have to understand, 'Okay, how do we make the economy go through?' Then you also have to learn all kind of things.
"Growing up to what SABATON is today, when we are quite complicated when it comes logistics. We book a couple of thousands of flight tickets per year and we are also transporting a lot of equipment through all kind of weird countries with rules and regulations about what to bring.
"Sometimes it can be interesting, sometimes it can be complicated, but it's always fun to bring our production and to declare, 'We're bringing a tank into your country!' And they're like 'What?' You're not saying you're bringing a tank. In the truck, there's one tank and a lot of explosives and they'll be, like, 'Really? That's not gonna enter this border.' [Laughs] Then you have to explain to them, 'Don't worry. It's not a real tank. It's a fake tank.' The best answer we ever got was, 'Who ever needs a fake tank?' It still is a heavy piece — I think it's 1.7 tons in total, the whole thing — so to get it into some of the stages, some of the places, it's a bit complicated. But it's exciting. I always was very interested in doing like a big production, so this definitely helps."
On what new lead guitarist Tommy Johansson brings to SABATON:
Pär: "Tommy has been a fan of SABATON for a very long time. The first picture of him and SABATON is from 2005 when we played a show and he came to see it. He's done cover songs of SABATON with his previous band. He's a big fan of the band. We knew that when he was joining the band, 'Okay we are not getting a guitar player. We are getting a singer and songwriter as well.' Of course, we want him to contribute with that.
"One of the first songs we did for the new album was written by him and our singer, it's the track 'A Ghost In The Trenches'. Tommy definitely brings something to the band. Not only is he a super-nice guy, which we like to have around us, also musically, he adds to the band. I'm sure in the future, it will develop even further."
On whether he had an idea SABATON would last this long upon their formation:
Pär: "We've been doing it for 20 years. We could never know what the future has in store, but, of course, nobody, not just us, but I think every band, nobody would ever say, 'Oh, let's just do this for three years, then we quit.' You start a band with the intention the band is going to be the biggest one in the whole world and you're going to do it until you die. That's how we started the band and that's where we're going."