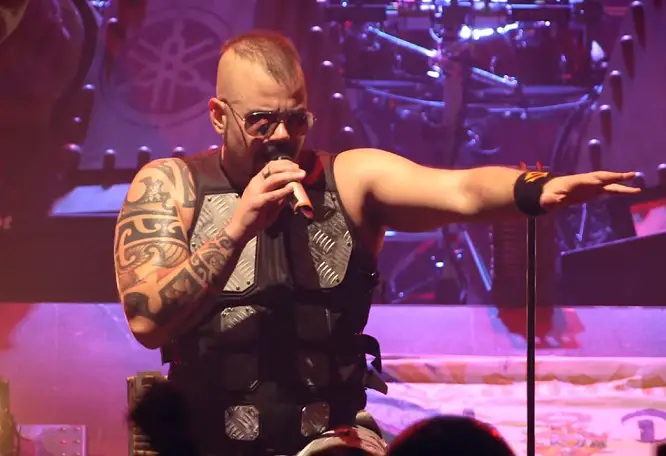 In a recent video from Nuclear Blast, SABATON frontman Joakim Brodén revealed some of his favorite vocalists of all time.
He said (as transcribed by Ultimate-Guitar.com): "I'm gonna start with Ronnie James Dio because… Ronnie James Dio. Amazing as a solo artist and with RAINBOW and BLACK SABBATH, one of the greatest voices in rock.
"After that, I'm thinking Freddie Mercury because – just amazing voice and stage presence. I think he is unparalleled in that sense.
"One more guy that I really enjoy is Tony Martin. Highly, highly underrated singer. He did some great stuff with BLACK SABBATH; for example, the [1989's] Headless Cross album, which you should check out if you haven't.
"And then, who can forget Mr. Udo Dirkschneider? Well, to be honest, the first time I heard him, I didn't really understand what he was about; I didn't even think he was good. But just a few listens later, I started loving it and I think he's one of the greatest rock voices of all time."
SABATON has released their ninth full-length studio album, The Great War, on July 19 via Nuclear Blast Records.
The band has started the recordings exactly 100 years after the end of the First World War (11/11/1918) and took 3 months of intensive work to complete the album together with their long-term producer and partner Jonas Kjellgren at Black Lounge Studios. Furthermore, the album has been mastered by Maor Appelbaum and the artwork was once again created by Peter Sallai.
Side by side with the album, the Swedes have worked hard to make their 20th anniversary a very exciting year, and also started the SABATON History Channel – a unique collaboration between the band themselves and multimedia historians Indy Neidell and Timeghost, capturing the power of social media to tell stories about the wars, battles and heroes behind SABATON's songs.