Swedish metallers SABATON will release their new album, "Heroes", on May 16 via Nuclear Blast Records. The cover artwork for the CD was created by Péter Sallai. There will also be "alternate artwork for some editions," according to the band.
The cover artwork for both the standard and special "Heroes" editions can be seen below.
"Heroes" track listing:
01. Night Witches
02. No Bullets Fly
03. Smoking Snakes
04. Inmate 4859
05. To Hell And Back
06. The Ballad Of Bull
07. Resist And Bite
08. Soldier Of 3 Armies
09. Far From The Fame
10. Hearts Of Iron
In addition to the standard jewel-case CD, there will be a vinyl version (different colors), a limited-edition digipak (featuring two bonus tracks), limited earbook (including five bonus tracks) and digital download (with one bonus track).
"We had the title in mind since before we even recorded 'Carolus Rex' and we already had ideas for artwork years ago," says SABATON bassist Pär Sundström. "We had a few different ones to choose from, but when we saw this one, we knew it was the right one for this album."
"Heroes" was recorded at The Abyss, the recording studio in Pärlby outside Ludvika, Sweden owned and operated by record producer and musician Peter Tägtgren (HYPOCRISY, PAIN).
"[Peter] still has some aces in his sleeves that we are sure will lift the new album," says Sundström.
SABATON played its first show with new drummer Hannes Van Dahl on November 16, 2013 at the Metal Hammer Paradise festival in Germany.
Regarding their decision to enlist Hannes Van Dahl, SABATON said in a statement: "For some time, there has been rumors about Robban [Bäck] coming back soon, or that Snowy [Shaw] would fill in for a while longer, or even take Robban's place permanently behind the drums.
"To put an end to these rumors we now present our new full-time member in SABATON: Hannes Van Dahl.
"Hannes has previously played in EVERGREY, which we have toured with in the past, and he has also worked side by side with us as drum technician for Snowy during his time in SABATON."
SABATON will return to the U.S. and Canada in April as direct support to American metallers ICED EARTH on their "Worldwide Plagues" North American tour. Opening each show on the six-week trek will be Dutch metallers REVAMP (featuring NIGHTWISH singer Floor Jansen).
SABATON's last album, "Carolus Rex", was released on May 22, 2012 via Nuclear Blast Records. The lyrics for the CD, which was made available in both English and Swedish, deal with the Swedish Empire (referring to the Kingdom of Sweden between 1561 and 1721).
SABATON in 2012 parted ways with guitarists Oskar Montelius and Rikard Sundén, drummer Daniel Mulback and keyboardist Daniel Mÿhr.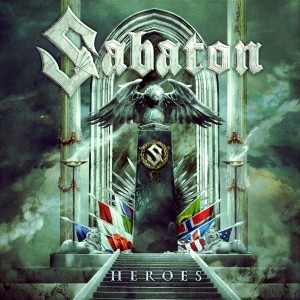 Here you can listen the two new songs:
To hell and back
Resist and bite
Source: Blabbermouth