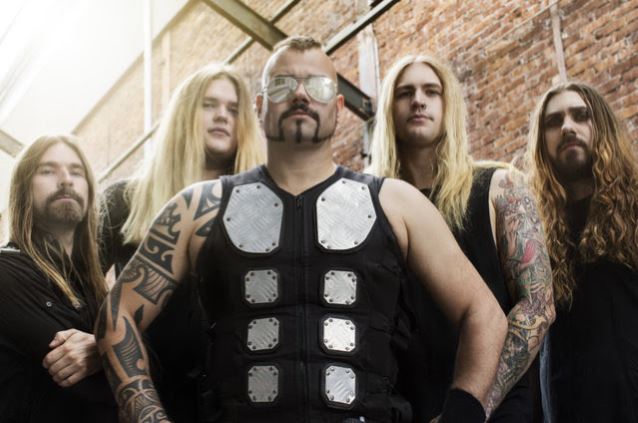 SABATON and the massively popular MMO game World of Tanks have collided to forge a new genre: Tank Metal. The band's love of history, which blasts through in their music, reviving dramatic, historical events made them a perfect match for the historical tank warfare game developed by Wargaming. Both communities have a love of history and are proud that their players are bursting with musical creativity and passion.
SABATON collaborated with World of Tanks to put a new spin on the band's awesome song 'Primo Victoria'. The tune is an iconic song from the studio album released in 2005, which is loved by the fans all over the world.
When Wargaming discovered that SABATON were players of the game, they couldn't wait to collaborate with the band and ultimately created a music video that encapsulates World of Tanks' drive and style. Directed by famous German music video and commercial director Zoran Bihac, the creative genius behind videos including 'Mein Herz Brennt' (RAMMSTEIN), 'Eat you Alive' (EMIGRATE), and 'Praise Abort' (LINDEMANN), the video features the song 'Primo Victoria' and focuses on all the emotions felt during a heroic tank battle.
Video can be viewed below.
"Understanding the setting of World of Tanks, I can easily say that this game is about history and its importance, but to be honest: also about fun," said Zoran Bihac, on the new music video. "It awakens the inner-child in you; it's how I feel about my work, and it resonates with SABATON's style. I wanted to keep the feeling of the game, and especially of their trailers, which look like real, historically accurate movies. This had to be combined with the song and our performance. To create a story, I came up with the setting of a normal performance video, where the tanks come alive, and start to hunt and shoot each other."
A number of the shots for the tanks were filmed in Arsenalen Tank Museum, Strängnäs, Sweden. The action scenes were shot on a military base in Belarus, where the band got a totally new experience of riding in actual WW2 tanks. The wall destruction scene was shot on the first take with a Panzer III actually crashing through the wall, with Pär Sundström on board.
"Working closely with talented musicians like SABATON was an awesome experience for us," said Maxim Chuvalov, World of Tanks marketing director. "One of the challenges we faced was that the band was constantly on tour, preforming shows all over the world almost every day. We had to find a slot in their tight schedule to bring the idea to life. Thankfully, the guys were very energetic and flexible, as well as really hardworking, so the project took shape. We're really proud to have such talented musicians in our community and super excited to present the Tank Metal video to our fans." 
Fans can expect more Tank Metal coming to World of Tanks. On August 17th, the first ever music tank, the Strv 81 Primo Victoria, will be available in the game with some cool camo and unique features like a SABATON crew with the captain's VO, Band of Brothers perk, and more.