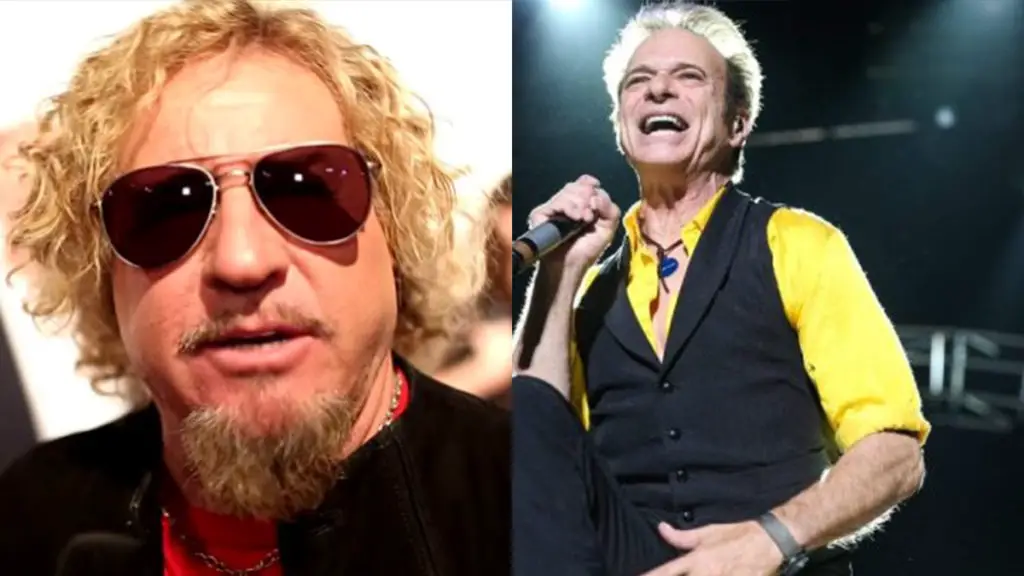 During a recent interview with Washington Post, Sammy Hagar talked about the classic VAN HALEN singer David Lee Roth.
"We're different kinds of people — we're totally different," Hagar said. "I've been married since I was young, I've got children, I've got grandchildren, I'm a real family kind of guy. I don't do drugs, I don't go out and party myself to death — I take what I do seriously, and when I go on stage, I'm in condition, I try to do that every time. It's just a different work ethic, it's a different thing.
"I'm not trying to be a celebrity and trying to be a big star — I'm about being a good enough artist that they accept me in the celebrity world," he continued. "That's the way I approach my whole thing, and he does it all differently. I think it's just all about being a celebrity, it's all about, you know, having something that gets attention. It's a whole different style, and I don't really respect the way he does it.
"But, I respect what he did in VAN HALEN, so don't ever get me wrong. He was great for that band, and he's got a cool voice. He doesn't sing well anymore, but on the early VAN HALEN records, he was great, he sounded great, I loved the way he sang his attitude and his persona."
After interviewer noted, "This final idea that never came together, this idea that Wolfgang had been plotting out with Eddie to have everybody back — the Kitchen Sink tour. From your perspective, how can that turn into anything but a giant disaster with you and Dave together, trying to be part of the same band?"
"Oh, I had all this worked out years ago. Two years ago, I presented this to Irving Azoff and everybody before Eddie and I were still talking, but I presented to Irving, I presented to the band that we'd do it this way," Sammy responded. "No. 1, I had my own airplane, so I wouldn't have to get in any close quarters with that guy. No. 2, we'd be playing in stadiums, and you know how there are two football teams, so I'd be on the Raiders' side, and he would be over on whoever's side.
He continued: "It would just keep us apart, and my concept was to do it like this. I go out and sing two sings, leave stage left, he comes in from stage right, he sings two songs, he leaves stage left, I go on and come stage right, we just go like this, all night, back and forth, two songs, two songs. I would totally be willing to do an encore of one of our songs, 'Finish What Ya Started' is about the only song that he could possibly sing with his range, so I'd say let's do that for an encore.
"And we'll do 'You Really Got Me,' I love that song, and I'll sing the high part, but that would've never happened, he would've never done an encore with me. He wouldn't step on the stage with me, it would be the last thing he'd ever want to do. It would've been great, it would've been great for the fans."