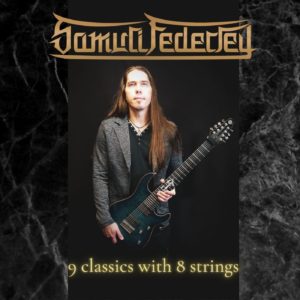 I'm not the classical music kind of guy. I admit it. Even though I've always listened to Classical Music classics. I'll elaborate. Classical music is everywhere or better it used to be everywhere. The ones who are used to classic cartoons as Bugs Bunny or Woodypecker know that their cartoons were filled with classics. Movies always had some classics inserted. And, of course, many of them were introduce to us via Metal Music. There are uncountable pieces inserted in Metal songs or, better yet, classics that inspired Metal tracks. I dare to say that that Metal Music that is done today has much more influences of Classical Music than the Blues that inspired the early Metal bands. Here's an album that the Metal fan will listen and make that "I've heard that before" face to, I guess, all the nine tracks of it. "9 Classics with 8 Strings" will for sure ring a bell. Moreover Samuli Federley's pieces are pristine and very well cared. The kind of care that only the passionate can deal with. Some pieces here are gems of the so-called Neoclassical Metal, if I may use this word. Let's go for it.
Well, the first "I've heard that before" face will come from the beginning with "Carmina Burana," a song that hardly the fan will say 'I don't know it' while listening to it. Though Samuli Federley opted to perform only the most known part of the song his performance is perfect, flawless. What the man does with the guitar to perform the most known psrt of the song is really a stapler. As I said before, I'm not a fan of Classical music, but this album made me love it. The second track that will amaze the fan even though if an atheist or the likes is Franz Schubert's "Ave Maria." Even the more hard-hearted fan will get soft while listening to it. Despite the religious mood of the song the track is perfect. Samuli Federly was able to take everything the song had and add much more. To Yngwie Malmsteen's fans Antonio Vivaldi's "Storm" may be familiar as its violin lines were exhaustely covered by the swede. I don1t know if the swede covered it, however it's his league. It doesn't mean that Samuli Federly's version isn't good. It is. It's just that I recalled the swede while listening to it. The last track that the fan will know for sure is Nikolai Rimski-Korsakov's "Flight of the Bumblebee" – hahahaha I really know the song, but never knew whose it is. Here the man shows all his guitar abilities and prowess. Amazing track not only because of that.
I guarantee the fan that this album isn't Classical Music fans only. It's much more. It's an album for the ones who love good and well perfomed music. Give it a try and you won't regret it.
Samuli Federley "9 Classics with 8 Strings" was released on December 20th via Dr. Johns Surgery Records.
Track Listing:
Carmina Burana (Carl Orff)
Storm (Antonio Vivaldi)
Ave Maria (Franz Schubert)
Aquarium (Camille Saint-Saëns)
Cello Suite No. 1 in G Major (Johann Sebastian Bach)
Flight Of The Bumblebee (Nikolai Rimski-Korsakov)
Con Te Partiro (Francesco Sartori)
Finlandia (Jean Sibelius)
Finale (Camille Saint-Saëns)
Watch "Finlandia (Jean Sibelius)" official video here: