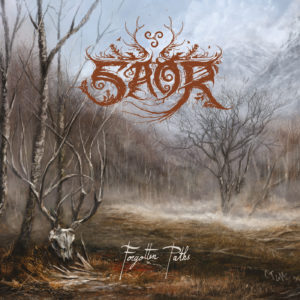 Before I start this review and tell about the band and the album, I have to say some words about this process of reviewing. I don't believe in coincidences for metaphysical reasons and these last three reviews I wrote were all somewhat linked. In general, most of the bands I review here are perfectly unknown to me. When I get a band that I know, and like very much, I rush to it to write my review – you must have noticed because I use to mention it. So, I don't pick bands by name nor read the email where they are included. I pick them by date to avoid missing the release date because it's a undesirable thing and a disrespect to our partners.
That put, those are the facts which drove me to write this. After reviewing some Death and Black Metal albums I was in the mood of changing hearts. You know, I do this often – you may have noticed because I also mention this. In fact, the bands we receive are mostly Death and Black Metal, only a few have acoustic efforts as this Saor "Forgotten Paths." The thing is that Drunken Fools, Hexvessel, and Saor are all acoustic driven efforts in a way. That's why I got upset and I had to tell this.
Ok, let's get back to Saor "Forgotten Paths," shall we? Well, as I mentioned before it's an acoustic driven effort, but with more Black Metal touches than the other quoted efforts. In fact, Saor reminds a lot Cruachan and their approach to Folk and Black/Death Metal. What makes Saor "Forgotten Paths" unique is that is almost an instrumental only effort except for some background vocals which appear here and there as ghost voices. That's where Black/Death Metal gets into "Forgotten Paths" besides some uptempo sequences with high-velocity drumming as in the beginning of the title track. But it's not the motto. In one-minute time the cadence slows down and a sweet flute guides the song giving an ethereal vibe to it. From the second minute on "Forgotten Paths" will be more acoustic than electric and that's exactly what gives it its personality and fun. The utterly unearthly voice appears here for the first time and the song gets as Power Metal as possible with a speed of light bass line giving the pulse. Following track "Monadh" kicks off with a sweet and tender piano preparing the ground to the aforementioned ethereal flute. What follows is a sequence of guitar phrases and the ghost voice to embellish even more the track. Following track "Brón" deepens this mix, but in a more beautiful way with the lead guitar giving the path with soft and well-put phrases. Yeah, my child of the night, "Forgotten Paths" is an album of pleasant surprises.
Saor "Forgotten Paths" will be released on February 15th via Avantgarde Music.
Track Listing:
Forgotten Paths
Monadh
Brón
Exile
Watch "Brón" official music video here: