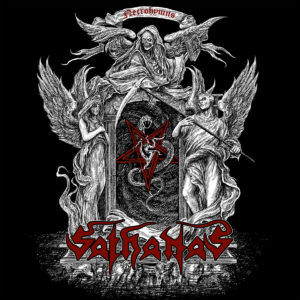 What can we tell from a band named Sathanas? At first, I can't help it comparing to the impression most had listening to the seminal Demon's "Night of the Demon" for the first time. Dudes who, as me, are enlisted on metallic wars for more time know perfectly what I am trying to say. You expect a heavier band. Don't get me wrong, heavier I said, not better. Sathanas are good – is it right to write good for Sathanas? Let me rephrase it: Sathanas are a good band. Now it seems okay.
In fact, it is very difficult to label the music Sathanas do in "Necrohymns." It is a kind of trip through the world of Metal music with an insane vocalist who sings a bit punkish. You can feel the anger in your bones. In terms of music their proposal is modern black metal. But it doesn't sound modern black metal all the time. That's the beauty of it. Sathanas are a band that surprise. They deliver what you haven't ordered. Take second track "Of Wrath and Hellfire" as an example. It sounds pretty NWOBHM to me when it comes to guitar  riffing. It has the same excitement NWOBHM bands have. Vocal helps a lot too.
"Necrohymns" is Sathanas tenth effort. And we can tell that for the excellence of a mature songwriting. Guitar riffing in all songs are really jaw-dropping due to its excitement and wrath. "Throne of Satan" is a good choice to check this out. Ah, don't forget that Sathanas are a power trio, but no one can tell that only listening due to the sense of fulfillness in its music. The trio is a perfect match. Everything works as perfection in "Necrohymns." One get the impression of how is it possible to have so many twists in songs of a four minute average. Well, it is. Sathanas are here to make a stand and prove it. No need for conjuring…
Sathanas "Necrohymns" will be released on July 10th via Trascending Obscure Records.
Track Listing:
At the Left Hand of Satan
Of Wrath and Hellfire
Throne of Satan
Harbinger of Death
Raise the Flag of Hell
Upon the Wings of Desecration
Sacramentum
Witchcult
Watch "At the Left Hand of Satan" official video here: