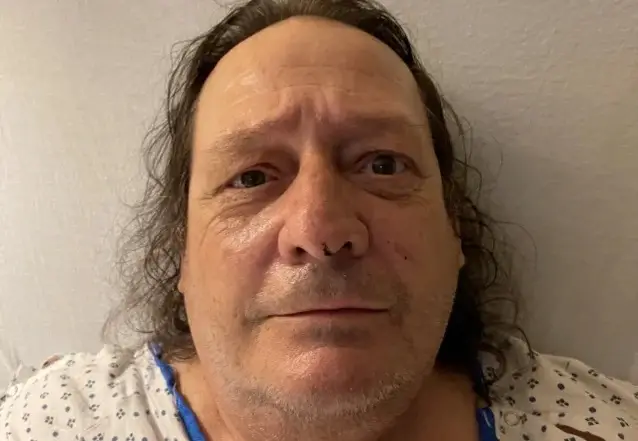 Legendary SAVATAGE member John Nicholas "Jon" Oliva was arrested earlier this week on the west central coast of Florida for driving under the influence as well as possession of a controlled substance, Pasco County Sheriff's Office reports.
The Pasco County Jail web site shows the 62-year-old musician was arrested at 3:43 a.m. on Thursday (September 30) and was released on bail less than 24 hours later — at 12:34 a.m. on Friday (October 1).
Police charged Oliva with possession of c*caine, which is a felony, and DUI, which is a misdemeanor.
Jon's booking photo released by the Pasco County Sheriff's Office shows him apparently wearing a hospital gown and sporting what appear to be fresh scrapes on his nose and left cheek, suggesting he may have been injured in an auto accident before being arrested.
More information on his arrest can be found on the Pasco County Sheriff's Office web site (where he is listed under booking number: 254418).
Earlier this year, Oliva discussed possibility of new music from SAVATAGE in an interview with That Metal Interview.
"Ever since [SAVATAGE's 2001 album] Poets And Madmen, I have been writing SAVATAGE material," Oliva said. "Me and [guitarists] Al Pitrelli and Chris Caffery, over the last couple of years, have been putting material together and writing stuff together.
"This is the thing: there is no official thing that we're going to do a SAVATAGE album; there's nothing official. Because you know what? As soon as I say, 'Yeah, we're gonna do a new SAVATAGE album,' something will happen to f*ck it up. And then I look like a liar. So all I'm gonna say is there are many surprises in the future.
"We don't know what's going to happen," Jon continued. "We're not sure. But we're writers; we write. And we have — dude, just me alone, I have enough songs for three SAVATAGE albums, okay? And so, yeah, we write because we like working together. And because of the pandemic and stuff, a lot of the stuff that we've been just fiddling around with each other, we've done it over the phone and over the Internet: 'Here, I've got this. What do you think?' 'Oh, I love it.' And I'll send Al something over the phone. He'll send me something. Caffery will send me something or I'll send him something. Because you don't know.
"The world today is different, and I don't want to say to people, 'Hey, we're gonna do a new SAVATAGE album,' and have something come along to f*ck it all up. No one knew that this COVID-19 sh*t was gonna happen. And who knows? Yeah, there's the vaccine now, but they're already saying, 'Oh, there's different strands of it now,' and, 'Who knows?', and this and that and blah blah blah blah."
He went on to say that he and his SAVATAGE bandmates "would all love" to make a new studio album. "But there's no deal with a record company to do it. There's no plan — actual plan — saying we're gonna start recording SAVATAGE," Oliva added. "There's no plan like that. All we're doing, as being musicians and songwriters, is we're compiling new material. So if we do get, 'Hey, why don't you guys do this? We've got a company that wants to give you guys [a deal], we're gonna be prepared.
"A lot of the fans, which it makes me upset, because SAVATAGE fans, I love them so much, because they have never, ever turned their backs on SAVATAGE — ever. And I just don't want to lead them down a road of false sh*t.
"If something happens where we say, 'Okay, we're ready to do this. Let's do it, guys,' I will be the first person to make a professional press release to tell everybody. But I just don't want to, because it's not solidified in stone right now. Do we wanna do it? You bet your f*cking a—s we wanna do it. But do we have the material for it? You bet your f*cking a—s we have enough material for another 10-year run. But all I can say is if we do a SAVATAGE thing, it's gonna f*ck you people up — it's gonna be f*cking blowaway."