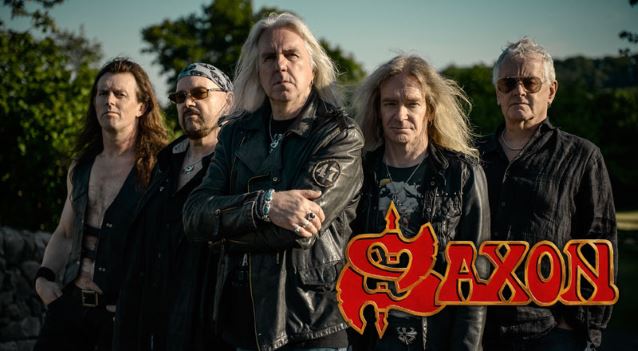 SAXON, the legendary English heavy metal band, has just released the second single and video "They Played Rock And Roll" from their new upcoming album 'Thunderbolt.' The video can be viewed below.
"The song tells the story of SAXON's very first tour in 1979 with MOTÖRHEAD" says frontman Biff Byford. "I want people to get a flavor of what it was like in the UK in 79/80 for SAXON and MOTÖRHEAD at the start of the 80s musical revolution."
SAXON isn't wasting any time in 2018. Following the critically acclaimed release of 'Battering Ram' in 2015, the heavy metal giants are set to release their latest studio album, 'Thunderbolt,' on February 2nd via the Militia Guard label (Silver Lining Music).
'Thunderbolt' will feature original Artwork by long time SAXON collaborator Paul Raymond Gregory.
"This is album 22, and it's called Thunderbolt" adds Byford. "It's a Storming Smashing Thundering collection of tracks we've been crafting with Producer, Andy Sneap and it's finished and ready to be unleashed. Stand clear and fasten your seat belts!"
Three weeks later, the band will be embarking on the first leg of the Thunderbolt 2018 European Tour followed by a North American tour as special guests to JUDAS PRIEST.
Since the 1970s SAXON has shown their ability to take rock 'n' roll and give it an electrifying edge which has since cemented their status as pioneers of the British heavy metal wave. With over twenty studio albums under their belt, Saxon has made their steadfast dedication to creating a dynamic body of a work a staple of their career.
Thunderbolt Track Listing:
1. Olympus Rising
2. Thunderbolt
3. The Secret of Flight
4. Nosferatu (The Vampires Waltz)
5. They Played Rock and Roll
6. Predator
7. Sons of Odin
8.Sniper
9. A Wizard's Tale
10.Speed Merchants
11. Roadie's Song
12.Nosferatu(Raw Version)*
*not available on vinyl