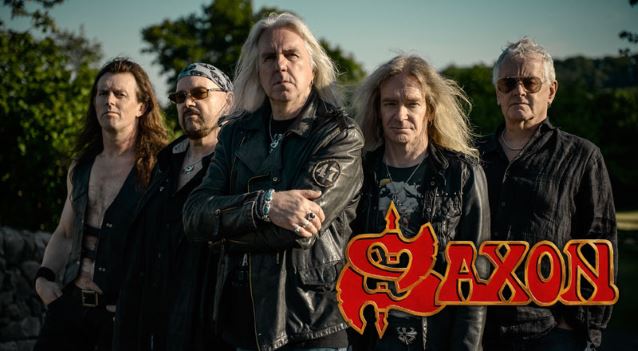 British heavy metal legends SAXON have set "Thunderbolt as the title of their new album, tentatively due in January 2018. The follow-up to 2015's "Battering Ram" is once again being recorded with British producer Andy Sneap, who has previously worked with MEGADETH, EXODUS and TESTAMENT, among others.
SAXON singer Biff Byford last year revealed that the band's forthcoming disc would include a song dedicated to MOTÖRHEAD. "[It's] called 'They Played Rock And Roll', 'cause that's what Lemmy [late MOTÖRHEAD frontman] used to say every night [from the stage]," Byford told Sonic Shocks. "It's basically about early MOTÖRHEAD — '79/'80 MOTÖRHEAD, like around 'No Sleep 'Til Hammersmith', 'cause that's the tour we were on, that one. So, yeah, it's about the band, really, and their music."
According to Biff, "They Played Rock And Roll" will be musically similar to Lemmy and Co. He explained: "I asked Nibbs [Carter, SAXON bassist] to write me some music that was like MOTÖRHEAD, and he did. So it sounds very MOTÖRHEAD-ish, but not MOTÖRHEAD, if you know what I mean."
UFO and SAXON are headed back to the US. Due to demand following their hugely successful tour together in March and April, UFO and SAXON have announced more dates in the US, plus two in Canada, in September and October. Special guest on all shows is Jared James Nichols.
SAXON & UFO Tour Dates
Special guest: Jared James Nichols:
2017/09/22 – Newton, NJ – Newton Theater
2017/09/23 – Huntington, NY – Paramount Theater
2017/09/24 – Baltimore, MD – Baltimore Soundstage
2017/09/26 – Philadelphia, PA – Theater Of The Living Arts
2017/09/28 – Plymouth, NH – Flying Monkey
2017/09/29 – Worcester, MA – Palladium
2017/09/30 – Hartford, CT – Webster Theater
2017/10/01 – Portland, ME – Aura
2017/10/03 – Toronto, ON – Queen Elizabeth Theater
2017/10/04 – Montreal, QC – Corona Theater
2017/10/06 – Flint, MI – Machine Shop
2017/10/07 – Traverse City, MI – Ground Zero
2017/10/08 – Chicago, IL – Concord Music Hall
2017/10/09 – Akron, OH – Tangier CabaretRoom
2017/10/11 – Pittsburgh, PA – Jergels
2017/10/12 – Cincinnati, OH – Bogarts
2017/10/13 – Merrillville, IN – Star Plaza
2017/10/14 – Indianapolis, IN – The Egyptian