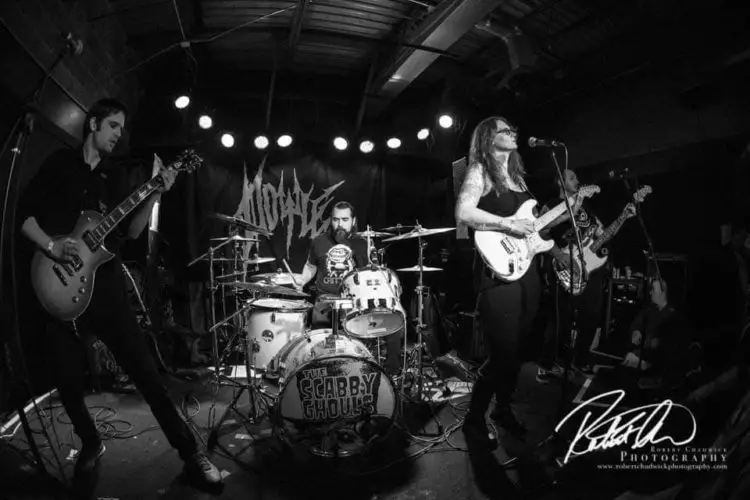 Horror and punk have a long history together, right back to when Glenn Danzig twisted his hair and daubed make-up to make a racket with the Misfits. Continuing this tradition into the modern era are Omaha's singular 'spooky punk' outfit The Scabby Ghouls, whose self-titled début is a speedy seven track slab out March 15 via Out-O-Tune Records.
"The Scabby Ghouls" blends party-loving punk and the macabre seamlessly for a truly fun and unique experience. Described by fans as "Scooby-Doo Punk" or "Haunted House Punk," this band celebrates all things creepy, spooky and bizarre year-round. Whether harkening back to the Elizabeth Short murder in the '50s, venting in frustration at the inability to drive, or punning on everyone's favorite Elm Street murderer, the lyrics are as gruesome as they are cheerful when delivered by the Hazards, who also handle guitar work adeptly. This album showcases the band's ability to blend various punk sub-genres with their own unique sound for an altogether novel experience.
To celebrate the release, The Scabby Ghouls will be playing alongside other local punk and hardcore bands including Stronghold, Hand-Painted Police Car, and Dummy Head Torpedo at the Lookout Lounge on Friday March 15th 2019 at 8 P.M. (Doors at 7 P.M.). $7.00 cover, all-ages show.
As the world continues to turn itself into a horror show of its own, The Scabby Ghouls consider it of utmost importance to keep your local area – in this case, Omaha – as spooky as possible. Why aren't you?

The Scabby Ghouls are:
Denise Hazard – Vocals, Rhythm Guitar
Louie Hazard – Lead Guitar, Backup Vocals
Alex Steffens – Bass Guitar
Nathan Christensen – Drums
Read our review here.