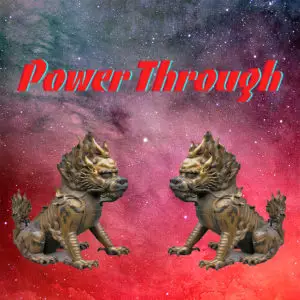 Instrumentals albums are rare and hard to find. In this five year journey if memory serves me right there had been around a dozen of them. Maybe a little bit more, maybe a little bit less. Even more when they are inspired on Chinese traditions and tales as this Scarlata "Power Through" with a pungent and strong Old School Heavy Metal that reminds the traits of Iron Maiden – mostly because Iron Maiden have a long run tradition of recording instrumental songs. With the exception of "Common Ground" all the eleven tracks here are instrumentals.
For starters I have to say that the production of "Power Through" isn't that good. A little poor if I may say. That causes a lack of bright in may tracks that could sound even better. I mean, I keep wondering the wall-of-sound effect of the galloping guitars in "The Edict" if the production were better. It would make the fan go really nuts and sky high. Or even the guitars of "In a Flash" with a professional – yeah, that's the right term – production.
Okay, enough with the geezer's complaints about production. In a general sense, the tracks are really good. The song writing is amazing and the effect the songs cause is fine specially when it comes to the guitars. Tracks as "White Stallion" reminds me the great Omen, a band that also likes some instrumental tracks. The moods of "Fruition of Justice" are juts amazing. Teh connection among all eleven tracks is the lead guitars that tell a story in each song. It is some kind of conversation between the guitars and the song as if doing the part of vocals. "Alpenglow" is the track that reminds Iron Maiden the most with its bass strummings and the clear and clean guitar solo. The track is gentle and sweet without sugaring too much as few tracks can be. The guitar solo with the whammy effects also gives the impression of Iron Maiden as Dave Murray loves this kind of effect in "Common Ground" the only track with vocals.
Bottonline, "Power Through" could be a fantastic album with a better production. However, this doesn't make the album bad. On the other hand, the album is pretty good.
Scarlata "Power Through" will be released on April 22nd.
Track Listing:
Ch'i Ling's Spell
All In
Joker's Wild
The Edict
In a Flash
White Stallion
Fruition of Justice
Power Through
Alpenglow
Common Ground
Height of Awareness
Watch "Ch'i Ling's Spell" official video here: