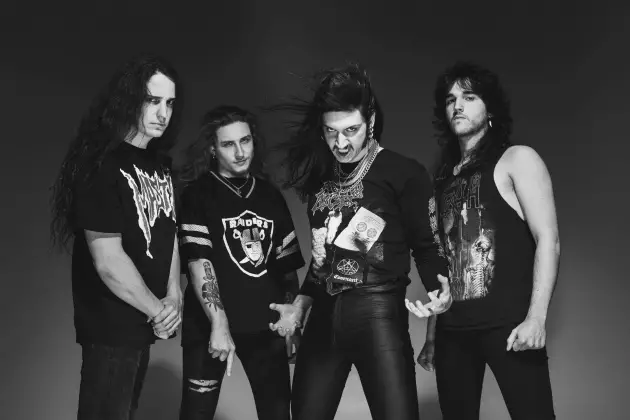 Almost two years after the successful and critically debut EP, Voices, that took the underground scene by storm with its relentless blend of high-adrenaline Death Metal and groovy mid-tempo elements, Belgium's Deathrashers SCHIZOPHRENIA are gearing up for the release of the band's highly anticipated debut album. Set for release on February 17th and with nine brand new tracks spanning over 43 minutes, Recollections Of The Insane picks up where its predecessor left off, with going even further in every aspect.
In support of the new album, SCHIZOPHRENIA just unleashed a brand new visualizer video for the track "Inside The Walls of Madness", streaming below.
Vocalist and bassist Ricky Mandozzi comments: "'Inside the Walls of Madness' is definitely one of my top 3 favorite songs on this record. It has all the elements Schizophrenia is all about. Chunky riffs, crushing drum beats and tempo changes that explode into a melodic chorus supported by relentless blast beats. This song is a journey throughout the mind of someone who's believed to be insane and the atmosphere shifts from raging moments into more dramatic sides. I hope our fans will enjoy this brand new track!"
Recollections Of The Insane was produced by Francesco Paoli of FLESHGOD APOCALYPSE and mixed/mastered at Y-PRODUCTION by Yarne Heylen.