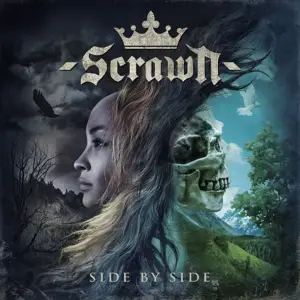 It was very fun to know Scrawn and "Side by Side." Even more fun to read their release and discover how our opinions on Metal music differ. I know that people have different feelings about music and different opinions on labeling bands. Musicwise, to me Scrawn are a NWOBHM with some touches of Modern Metal personified on the harsh and rough vocals. "Side by Side" is raw and that's the charm of it. But it's very far from Thrash, in my opinion, of course. Even what they call today as Thrash and Roll, which I'm still trying to figure out what exactly they mean by that.
I was saying how fun was to write about Scrawn. The first thing that jumps to the eye is their fresh rawness. "Side by Side" sounds great because of this feature. It gives it a certain charm. A charm that only heavy metallers understand. Though guitars sound crystal clear and the production seems to be neat, guitar tones sound a bit raw. There's a possible reason for that and it is maybe because the guitarist is using a single distortion pedal, perhaps a compressor, but nothing else. It makes a lot of difference on how the guitar sounds. First thing is that it doesn't sound too elaborate, too fancy. Listen to the guitar solo on tittle track to get what I mean. On second though, I guess there is a moderate chorus pedal too.
There's a charmful spontaneity in "Dark Waters" with the way the song is conducted. Ideas flow free, even though technique quite doesn't follow exactly what Scrawn really want to express. But the outcome is great. The melt between the raw instrumentals with he harsh and almost extreme vocals is fabulous. "Side by Side" is an album that amazes because of its charm. However we don't agree on labeling it, it was really nice to review it. It's an exquiste mix Scrawn offer us. It's great to see that bands are looking for musical surprises.
Scrawn "Side by Side" was self-released.
Track Listing:
Intro
Shadowed Heart
Storm the Solitude
Dominator
Wasted
Follow the Sea
One Day Ahead
Adjusting the Sun
Circus of Fools
Side by Side
Dark Waters
Whiskey Bar
Watch "Side by Side" official video here: